Thiruvanathapuram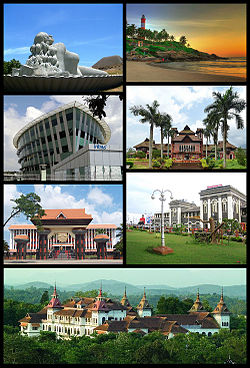 Thiruvananthapuram , formerly known as Trivandrum, is the capital and largest city of the Indian state of Kerala. It is on the west coast of India near the extreme south of the mainland. Referred to by Mahatma Gandhi as the "evergreen city of India", it is characterised by its undulating terrain of low coastal hills and busy commercial alleys. With a population of 957,730 inhabitants Thiruvananthapuram contributes nearly 80% of the state's software exports and is a major IT hub.
The city is home to central and state government offices and organisations. Apart from being the political nerve centre of Kerala, it is an academic hub and is home to several educational institutions and to many science and technology institutions.
Climate
The city has a climate that borders between a tropical savanna climate and a tropical monsoon climate. As a result, it does not experience distinct seasons.
Thiruvananthapuram is the first city  along the path of the south-west monsoons and gets its first showers in early June. It also gets rain from the receding north-east monsoons which hit the city by October. The dry season sets in by December. December, January and February are the coldest months while March, April and May are the hottest.
Airport
Thiruvananthapuram is served by the Thiruvanathapuram International Airport , the first international airport in India outside the four metropolitan cities then and third largest airport of kerala state. It has direct connectivity to the Middle East, Singapore, Maldives and Sri Lanka and is one of the gateways to the tourism-rich state of Kerala.
Railway Station
Thiruvananthapuram comes under the Southern Railway zone of the Indian Railways.The Central railway station is at Thampanoor in the heart of the city and is about 5 km from the new international air terminal and nearly 8 km from the domestic air terminal.
Some of the long distance trains operate from this station. The Thiruvanathapuram Rajdhani Express connects the city to New Delhi, the capital of India.
The city is well connected by rail to almost all major cities in India such as New Delhi, Mumbai, Vellore, Chennai, Coimbatore, Salem, Kolkata, Bangalore, Tirunelveli and Hyderabad. Thiruvananthapuram is the first major South Indian city on the longest train route in India, Kanyakumari to Dibrugarh.
Map Of Thiruvanathapuram
http://www.mapsofindia.com/thiruvananthapuram/travel-to-trivandrum.html