S.E.A.AquariumTM
8, Sentosa Gateway, 098269
Phone : +65 6577 8899
Check out the Top 10 photogenic marine animals at S.E.A.AquariumTM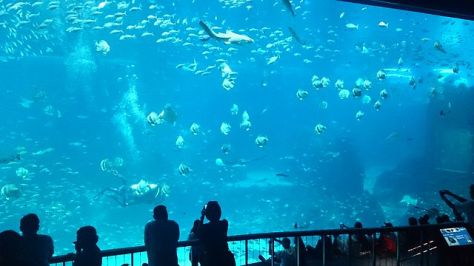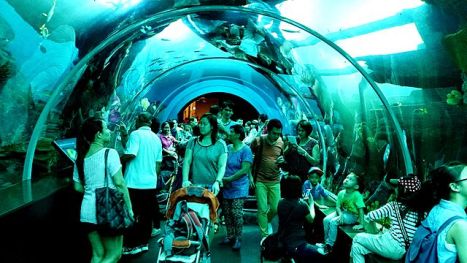 The SEA Aquarium (South East Asia Aquarium) was the world's largest aquarium by total water volume until overtaken by Chimelong Ocean Kingdom in Hengqin, China. It contains a total of 45,000,000 litres (9,900,000 imp gal; 12,000,000 US gal) of water for more than 100,000 marine animals of over 800 species. The SEA Aquarium comprises 10 zones with 49 habitats. The centerpiece of the Aquarium is the Open Ocean tank with more than 18,000,000 l (4,000,000 imp gal; 4,800,000 US gal) and 50,000 animals. Until 2014 when eclipsed by China's Chimelong Ocean Kingdom, it had the world's largest viewing panel, 36-metre (118 ft) wide and 8.3-metre (27 ft) tall, which is intended to give visitors the feeling of being on the ocean floor.
The SEA Aquarium houses the world's largest collection of manta rays, including the only giant oceanic manta ray in captivity. It also showcases 24 Indo-Pacific bottlenose dolphins, scalloped hammerhead sharks, the Japanese spider crab, and relatively uncommonly-exhibited species such as the guitarfish and the Chambered nautilus.
The main attractions at  include:
Strait of Karimata & Java sea : Comprises marine fishes such as Pompano, threadfin, batfish, Napolean wrasse housed in a shipwreck that sinks beneath a simulated Strait of Karimata on the lower-eastern side of Sumatra.
Strait of Malacca & Andaman Sea : Features sea creatures such as leopard wrasse and blue flasher wrasses. The Discovery Touch Pool houses sea stars and sea cucumbers.
Bay of Bengal & Laccadive Sea : Includes endangered plants and animals along the coast of the Bay of Bengal, as well as garden eels, clown fish and reef lobsters.
Ocean Journey : Allows face-to-face interaction with the Indo-Pacific bottlenose dolphins. It is also home to the giant spider crab and many different species of jellyfishes.
Open Ocean : The open ocean is a big home catered to gentle giants such as the leopard sharks and manta rays.
Persian gulf & Arabian Sea : Consists of a variety of marine life belonging to the Persian Gulf and Arabian Sea, including the bluespotted stingrays, eight-armed seastar and sally lightfoot crab. Includes the Soft Coral Garden inhabited by reef fish.
Red Sea : Home to corals and many warm water fishes, like the fairy basslet, orange-lined triggerfish and longhorn cowfish.
East Africa : Simulates two freshwater lake habitats of Africa, Lake Victoria and Lake Tanganyika, which feature sea creatures like the frontosa and African tigerfish.
South China Sea : Comprises lionfish, an array of lobsters, squirrelfish and soldierfish. Specially featuring the moray eel habitat.
Shark Seas : Consists of various shark species such as the silvertip shark and the sandbar shark – one of the largest coastal sharks in the world.
Source : wikipedia
https://www.youtube.com/watch?v=yxjC4lbExsU
https://www.youtube.com/watch?v=HHrvKmSc9sc
https://www.youtube.com/watch?v=SiXlnl-52H4
Reviews
Opening Hours
 Admission:
10am to 7pm
Admission
$32/ Adult
$22/ Child (4-12 years)
$22/ Senior (60 years and above)
Singapore Residents
$28/ Adult
$15/ Child (4-12 years)
$15/Senior (60 years and above)
Admission to The Maritime Experiential Museum is included in the S.E.A. Aquarium One Day Pass
Getting There
By Sentosa Express: Alight at WaterFront Station
By Bus:
– Sentosa Bus 1 or Bus 2 and alight at Resorts World Sentosa (Basement 1)
– RWS 8 and alight at RWS 8 bus stop outside The Forum, Sentosa
Nearest Car Park: Resorts World Basement Car Park
By Foot: Take a stroll down the Sentosa Boardwalk to Resorts World Sentosa
Nearest Carpark
Resorts World Basement Car Park