Coloane Village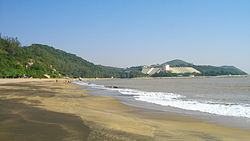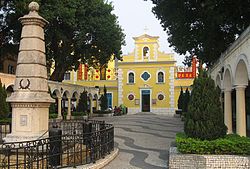 Coloane, officially Freguesia de São Francisco Xavier, is one of the two main islands of the Macau Special Administrative Region in China. The island is located directly south of Macau's other main island, Taipa, and east of Hengqin Island of Zhuhai in Guangdong province.
Coloane Village  located on the southwestern coast of Coloane, is the island's main settlement.
The village centers on Eduardo Marques Square, which is a rectangle paved in cobblestones that are black, white and yellow, laid out in a wavy pattern reminiscent of the sea. The square faces a seaside promenade that traces the channel dividing Macau from the hills of China proper. At the eastern end of the square stands the Chapel of St. Francis Xavier, built in 1928.
Hac Sa Beach is the largest natural beach in Macau, located on the southeast side of Coloane Island.
A Tam Kung Temple is located at the southern end of Avenida de Cinco de Outubro.
Chapel of St.Francis Xavier, of the Freguesia de São Francisco Xavier,  built in 1928, is located on the southwestern coast of the island and stands near a monument commemorating a victory over pirates in 1910. The chapel used to contain some of the most sacred Christian relics  in Asia, including the remains of 26 foreign and Japanese Catholic priests who were crucified in Nagasaki in 1597, as well as those of some of the Japanese Christians who were killed during the Shimabara Rebellion in 1637. They are now located in the Museum of Sacred Art, opened in 1996 next to the Ruins of St.Paul's. Another relic was a bone from the arm of St. Francis Xavier, who died in 1552 on Shangchuan Island, 50 miles (80 km) from Macau. This relic has been transferred to St.Joseph's Church.
Source : Wikipedia
The locals live on fish, as s result, there are many ship docks on the island. Owing to rapid development of Macau, a number of infrastructure projects have been successfully completed on the island, represented by Jiuao Port.
https://www.youtube.com/watch?v=264plb0a3KE
Reviews
Getting there : Bus 15, 21A, 25, 26A, N3