Maharaja Express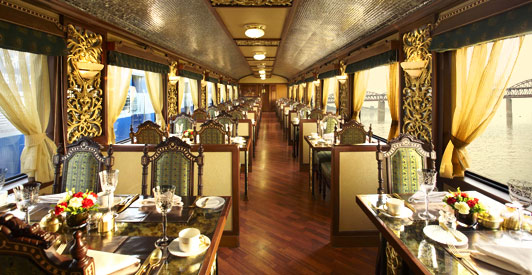 The Maharaja Express is a luxury train owned and operated by Indian Railway Catering and Tourism corporation. It runs on 5 circuits covering more than 12 destinations across North-West and Central India, mainly centered on Rajasthan between the months of October to April.
The Maharaja Express was voted "The World's Leading Luxury Train" thrice, in a row at The World Travel Awards, 2012, 2013 and 2014.  It is the most expensive luxury train in Asia. It was named to the 2011 list of World's Top 25 Trains by The Society of International Railway Travelers and was praised for its on-board accommodation and dining facilities, service, and off-train excursion program after its review in the Autumn of 2010. Maharaja Express also received the first runner up award in the Specialist Train Operators Category at Conde Nast Travelers Reader Choice Travel Award in 2011.
The train comprises 23 carriages which include accommodation, dining, bar, lounge, generator and store cars. Accommodation is available in 14 guest carriages with total passenger capacity of 88. The train also has a lounge called the Rajah Club with a private bar, two dining cars and a dedicated bar car. An on-board souvenir boutique offers memorabilia for passengers. The train is also equipped with a water filtration plant.
Source : Wikipedia
https://www.youtube.com/watch?v=2eoH2waQopE
For Destinations, Schedule, Tariff, etc. visit the official website