Parliament House
Lok Sabha Marg, Gokul Nagar, New Delhi, Delhi 110001
Phone :011 2303 4521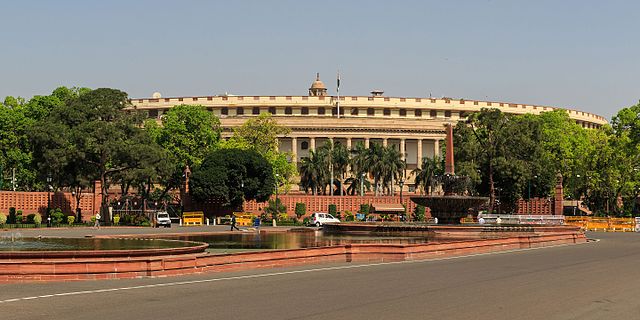 The Sansad Bhawan (Parliament Building) is the house of the Parliament of India, located in New Delhi.
History
Originally called the House of Parliament, it was designed by the British architect Edwin Lutyens and Herbert Baker in 1912-1913 and construction began in 1921. The opening ceremony of the Parliament House, then called the Central Legislative Assembly, was performed on 18 January 1927 by Lord Irwin, the then Viceroy of India. The third session of Central Legislative Assembly was held in this house on 19 January 1927.
The Parliament Museum, opened in 2006, stands next to the Parliament House.
Building
The shape is circular, which is based on the Ashoka Chakra. Separate halls were constructed for the sessions of the Chamber of Princes, the State Council, and the Central Legislative Assembly.
The building is surrounded by large gardens and the perimeter is fenced off by sandstone railings (jali) modeled after the Great Stupa of Sanchi.
Central Hall
The Central Hall of the Parliament is designed to be circular in shape. The dome is 98 ft. (29.87 metres) in diameter and is believed that it is one of the most magnificent domes in the world. The Central Hall is a place of historical importance in India for two reasons: The transfer of colonial power to the Provisional Government under Nehru in 1947 and the framing of the Constitution by the Constituent Assembly took place in this very hall. At present, the Central Hall is used for holding Joint Sittings of the two Houses. At the commencement of the first session after each General Election to Lok Sabha and at the commencement of the first session of each year, the President addresses both the Houses of Parliament assembled together in the Central Hall. When the Houses are in session, the Central Hall is used by Members for informal discussions among themselves. Central Hall is also used for special occasions when the Members of Parliament are addressed by distinguished Heads of States of other countries. The Hall is also equipped with Simultaneous Interpretation System.
Source : wikipedia
How To Reach
The Sansad Bhawan is situated at the end of Parliament Street, just north of Rajpath. You can always hire taxis and auto rickshaws from all over the city to reach the Parliament House. if Permit is taken to visit the Parliament,  you can sit and view sessions in the public gallery. Permits are available from the reception office on Raisina Road, but you will need a letter of introduction from your embassy.
http://www.youtube.com/watch?v=q9m-42Y48VU
Reviews
For visiting Parliament house