India Gate
Rajpath, India Gate, New Delhi, DL 110001
Phone : 011 2464 7005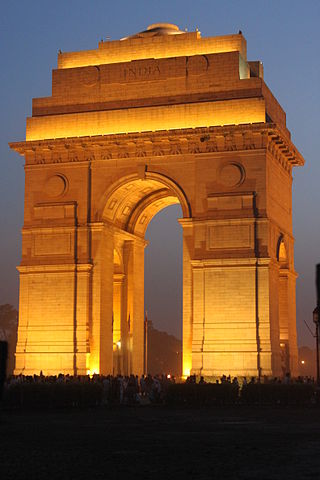 The India Gate, (originally called the All India War Memorial), is a war memorial located astride the Rajpath, on the eastern edge of the 'ceremonial axis' of New Delhi, formerly called Kingsway. India gate is a memorial to 82,000 soldiers of the undivided Indian Army who died in the period 1914–21 in the First World War. 13,218 servicemen's names, including some soldiers and officers from the United Kingdom, are inscribed on the gate. The India Gate, even though a war memorial, evokes the architectural style of the triumphal arch like the Arch of Constantine, outside the Colosseum in Rome, and is often compared to the Arc de Triumphe in paris, and the Gateway of India in Mumbai. It was designed by Sir Edwin Lutvens.
In 1971, following the Bangladesh Liberation War, a small simple structure, consisting of a black marble plinth, with reversed rifle, capped by war helmet, bounded by four eternal flames, was built beneath the soaring Memorial Archway. This structure, called Amar Jawan Jyoti, or the Flame of the Immortal Soldier, since 1971 has served as India's Tomb of the Unknown Soldier.
The 42-metre tall India Gate, stands on a low base of red Bharatpur stone and rises in stages to a huge moulding. The shallow domed bowl at the top was intended to be filled with burning oil on anniversaries but this is rarely done. The India Gate hexagon complex, with a diameter of about 625 metres, covers approximately 306,000 m² in area.
The cornice of the India Gate is inscribed with the Imperial suns while both sides of the arch have INDIA, flanked by the dates MCMXIV (1914 left) and MCMXIX (1919 right). Below the word INDIA, in capital letters, is inscribed:
TO THE DEAD OF THE INDIAN ARMIES WHO FELL HONOURED IN FRANCE AND FLANDERS MESOPOTAMIA AND PERSIA EAST AFRICA GALLIPOLI AND ELSEWHERE IN THE NEAR AND THE FAR-EAST AND IN SACRED MEMORY ALSO OF THOSE WHOSE NAMES ARE RECORDED AND WHO FELL IN INDIA OR THE NORTH-WEST FRONTIER AND DURING THE THIRD AFGHAN WAR
Source : Wikipedia
http://www.youtube.com/watch?v=M_FLiXWvEXE
Reviews
Visiting Hours : 24 hours
Must Try : Camel Riding, Pony Riding, Visiting the Children's Park
Time required : 2 hours
Must experience : From the base of the Arch the view of the Rashtrapati Bhavan is magnificient.
Don't Miss : Plucking of Jambul or Indian Blackberry and Mangoes from the Array of Trees Along the India Gate
Inside Tip : The Monument Looks Much More Beautiful at Night as Compared to the Day, due to Lightening Effects. Ideal for Photography.