Chandni Chowk
Chandni Chowk is situated opposite to Red Fort.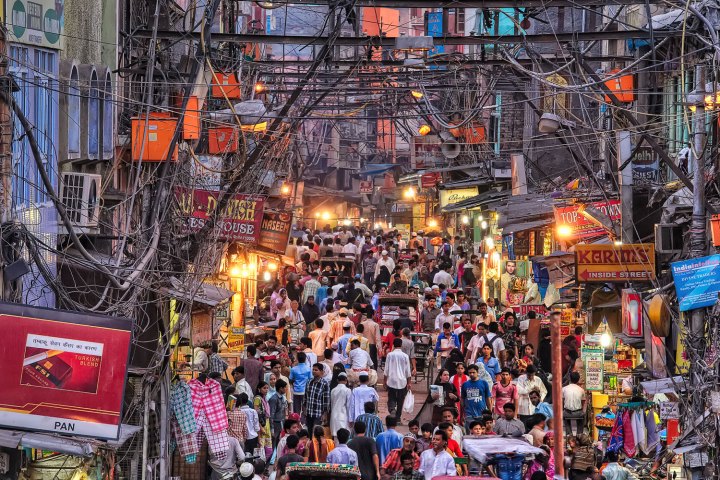 Chandni Chowk is one of the oldest and busiest markets in Old Delhi, India. Chandni Chowk is located close to Old Delhi Railway Station and the monument Red Fort is located within the Chandni Chowk. Built in the 17th century by Mughal Emperor of India Shah Jahan, and designed by his daughter Jahan Ara, the market was once divided by canals (now closed) to reflect moonlight, and it remains one of India's largest wholesale markets.
Chandni Chowk's speciality is the variety of its markets and their Indian-ness: from authentic Indian food, delicacies and sweets of more than 1,000 kinds, to sarees with chikan and zari work. There are many narrow lanes with shops selling books, clothing, shoes and leather goods, electronic and consumer goods and whatnot. The area, even more so than the rest of the city, is very congested. This is also a good place for window shopping. It is the location of the original Haldiram's and many other brands like Gianis. A particular local delicacy are the jalebis, which are fried in pure ghee (clarified butter).
The Cloth Market, supplies home furnishing fabrics, including ready-made items as well as design services.
Nai Sarak is the wholesale market of stationery, books, paper and decorative materials. It house folder stores including SOLOand Shipra. It also offers bridal Saris and Lehengas from DIVASA by Devta Apparels Pvt. Ltd jogiwara, Arun Sarees and Nandlal Silk Mills.
Lal Kuan is a wholesale market for hardware and hotel kitchen equipment. It is adjacent to Tilak Market which is a wholesale market for industrial chemicals.
Dariba is the market for silver and gold jewelry. The popular jewelry stores are Hare ram Hare Krishna and MM Jewellers. This market also offers trophies, shields, mementos and related items.
Source : Wikipedia
http://www.youtube.com/watch?v=z_4yQ9dlFmE
http://www.youtube.com/watch?v=714I85UMq4Q
Reviews