Government Museum and Art Gallery
Jan Marg, Sector 10 C, Chandigarh, 160011
Phone:0172 274 2010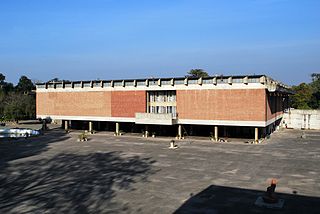 The Government Museum-Art Gallery Chandigarh is a natural history museum and an art gallery in the Indian Union Territory Chandigarh, located in the city of Chandigarh (Sector 10-C near the Rose Garden). Established in August 1947, the building is square 165×165 feet (50x50m) and was designed by noted architect, Le Corbusier.
Source : Wikipedia
The Government Museum-Art Gallery Chandigarh, owes its existence to the partition of the country in August,1947. It is one of the premier institution of India with a very rich collection of Gandharan sculptures, Pahari and Rajasthani miniature paintings. Before the partition in 1947, the collection of art objects, paintings, sculptures and decorative arts, were housed in the Central Museum, Lahore the then capital of Punjab.
On April 10, 1948, the division of collection took place by which sixty percent of objects were retained by Pakistan and the remaining forty percent collection consisting mainly of Gandharan sculptures and Indian miniature paintings ( Mughal and Pahari schools) fell in the share of India. Received in the month of April,1949, this collection was first housed in Amritsar then Shimla, Patiala and finally shifted to Chandigarh.
Of the various multi-dimensional Museums in India, the Government Museum-Art Gallery Chandigarh occupies a very distinctive position for not only its unique collection of the objects, but also for other reasons as well. Situated in the heart of the city planned by Le Corbusier, and very close to the city center in beautiful view of the Shivalik range of mountains, the Museum has a very sprawling and spread out campus at one side of which is located the Government College of Art. The Government Museum-Art Gallery Chandigarh building is an attraction in view of the fact that Le Corbusier himself designed it. The Museum was inaugurated on the 6th May, 1968 under the initiative and active support of Late Dr. M.S. Randhawa, renowned connoisseur and patron of art, and the then Chief Commissioner of Chandigarh. Later a few other buildings were added in view of the growing need of the Museum's expansion. The campus in which the Museum is situated is surrounded with selective trees adding grandeur to the campus. The vast expanse of the courtyard of the Museum is dotted with some contemporary sculptures suitable for environmental display.
The Government Museum-Art Gallery Chandigarh has four wings of which the largest and the most imposing is doubtless the building of the Art Gallery. Another wing constitutes the Natural History Museum, Chandigarh Architecture Museum and National Gallery of Portraits. The Chandigarh Architecture Museum documents the different stages of development from the inception to the present stage of the city of Chandigarh.
The Chandigarh Architecture Museum
On display here one can have the glimpse of the original documents pertaining to the planning and evolution of the city, and also of some rare plans, sketches and relevant photographs prepared by Master Planner of the City. The detailed information about this Chandigarh Architecture Museum can be had from a beautifully published handbook for the Museum which is on sale at its reception counter.
The Natural History Museum
in 2001, in a landmark decision , the existing museum of Evolution of Life was upgraded to its present status as the Natural History Museum with five major sections:
Cyclorama of Evolution of Life
Nature in Art section
Evolution of Man section
Dinosaurs of India section
Source : chdmuseum.gov.in
https://www.youtube.com/watch?v=WV-uGmNKgnU
https://www.youtube.com/watch?v=8f5AOcIyVLc
Reviews
Visiting hours : 10.00AM to 04.30PM except on Mondays and Gazetted holidays
Entry fee : Rs. 10/- per person, Free for children below 12 years and senior citizens
Light & Sound show timings : Friday, Saturday and Sunday (Except gazette holidays )
Summer : 07.30PM to 08.15PM
Winter   : 06.30PM to 07.15PM