Jama Masjid
Opp.Agra Fort, Near Agra Fort Railway Station, Agra, Uttar Pradesh – 282005
Phone 562 2227261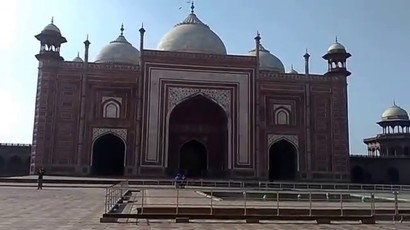 Jama Masjid Agra is opposite the Agra fort and overlooking the Agra Fort Railway Station. The Jama Masjid Agra is also popularly known as the Jami Masjid or "Friday Mosque". It is one of the larger mosques in India.
The Jama Masjid Agra was built by Shah Jahan (who also built the Taj Mahal, at Agra and the Red Fort in New Delhi) in 1648 and dedicated to his daughter Jahanara begum.
More than 5000 worked on the mosque and was finished in 1656. It has 3 huge gates, four towers and two minarets (which have been built from strips of red sandstone and white marble). The courtyard is huge which can accommodate more than 25,000 people at one time.
Out of all the gateways, the eastern one, which was used by the emperors, remains closed during weekdays. The mosque was built on a red sandstone porch -about 30 feet from ground level.
This mosque is an example of the Mughal style of architecture.
Reviews
Visiting hours : 5.00am – 9.00pm all days of the week