A Symphony of Lights
Locations : Central, Admirality, Wan Chai, Tsim Sha Tsui and Hung Hom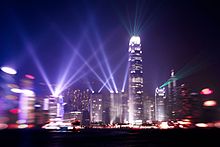 A Symphony of Lights is a daily light and sound show in Hong Kong. It is the world's largest permanent light and sound show according to Guinness World Records.
The show is organised by the Hong Kong Tourism Board and is displayed every night with good weather at 8 pm Hong Kong Time (UTC+8). An orchestration of music, decoration lights, laser light displays, and pyrotechnic fireworks, the multimedia light and sound show lasts for around 14 minutes and was conceptualised, created, and installed by Laservision.
The best vantage points for 'A Symphony of Lights'  include the "Avenue of Stars " on the Tsim Sha Tsui waterfront, on the waterfront promenade outside the Golden Bauhinia Square in Wan Chai and on sightseeing ferries (i.e. Star ferry) running across the Victoria Harbour. The Show's music and narration live at the "Avenue of Stars" and the promenade outside the Golden Bauhinia Square in Wan Chai every night. On Mondays, Wednesdays and Fridays the narration is in English, while it is in Mandarin on Tuesdays, Thursdays and Saturdays, and Cantonese on Sundays.
Special pyrotechnic fireworks will be added to the show on the rooftop of participating buildings on both sides of the harbour or stages off at the Tsim Sha Tsui waterfront. They are used on special events or holidays, like Chinese New Year and Christmas.
Source : Wikipedia
Named the 'world's Largest Permanent Light and Sound Show' by Guinness World Records, coloured lights, laser beams and searchlights perform in an unforgettable all-round spectacle synchronized to music and narration that celebrates the energy, spirit and diversity of HongKong. There are five main themes : Awakening, Energy, Partnership, and the finale, Celebration. The show is free for public enjoyment and no admission ticket is required.
Source : discoverhongkong.com
https://www.youtube.com/watch?v=ZlxQxUndPlI
For more Images and Details
Reviews