Sha Tin Racecourse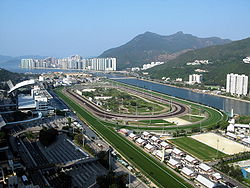 Sha Tin Racecourse is one of the two racecourses for horse racing in Hong Kong . It is located in Sha Tin in the New Territories. It is managed by Hong Kong Jockey Club.
Penfold Park is encircled by the track, and the Hong Kong Sports Institute is located immediately south of the property.
Originally built with capacity for 35,000 and one grandstand, it now has capacity for 85,000 and two grandstands. It also has 20 stables for a capacity of 1,260 horses.
Source : wikipedia
Sha Tin Racecourse, at Sha Tin District in the east of New Territories, was built in 1978 by reclaiming land from the sea. With the capacity of holding more than 60,000 spectators, it is universally acknowledged as a world-class racetrack. The business hall of Sha Tin Racecourse consists of two floors and is provided with a large number of ticket windows for punters. Rows of fluorescent displays are arranged in the hall for people to watch real-time situation in the racecourse.
Note:
1. Races on Wednesdays often take place in Happy Valley, while race meetings on Saturdays (or Sundays) are often held in Sha Tin.
2. No person under 18 is allowed to bet or enter premises where gambling is permitted.
3. No person under 18 is allowed to enter the racecourses.
Source : travelchinaguide.com
https://www.youtube.com/watch?v=9B22q8nYluo
Reviews
Timings : Usually race starts at 1.00AM   ( only on Saturdays or Sundays )
Entry fee : $HK 10
Getting there:  
1.Take MTR East Rail Line and get off at Racecourse station (only available on race days).
2. Take MTR East Rail Line, get off at Fo Tan station and then walk for about 15 minutes.
3. Take KMB line 802,848, 868, 869, 872, 885, 886, 887, 888, 889, 891, 893, or NWFB 811 and get off at Sha Tin Racecourse.