Ocean Park
Wong Chuk Hang, Hong Kong Island
Phone : +852 3923 2323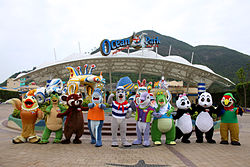 Ocean Park Hong Kong, commonly known as Ocean Park, is a marine mammal park, oceanarium, animal theme park and amusement park, situated in Wong Chuk Hang and Nam Long Shan in the Southern District of Hong Kong.  As per the records about  7.6 million visited the park in  in 2014, making it the world's 13th most visited theme park, and the largest theme park in Asia. Half of all visitors now come from mainland China, in growth that parallels rising mainland tourist visitor levels to Hong Kong over the same period.
Covering an area of 91.5 hectares (226 acres), the park is separated by a large mountain into two areas, The Summit (Headland) and The Waterfront (Lowland). These areas can be reached by a 1.5 kilometres (0.93 mi) cable car system, or the Ocean Express funicular railway. To ascend the Headland comprises several hills, visitors can use Hong Kong's second longest outdoor escalator.
The theme park has various attractions and rides, including four roller coasters , and also animal exhibits with different themes, such as a  giant panda habitat, rainforest and polar displays, as well as an aquarium featuring the world's largest aquarium dome. Between 1979 and 1997, Ocean Park was most famous for its signature killer whale, Miss Hoi Wai.
As well as being an amusement park, Ocean Park Hong Kong aims to merge entertainment and education, including conservation advocacy. However it has been criticised by wildlife advocates for practices including the wild capture of large sea animals, such as dolphins and orca, and the presentation of shows featuring such animals performing.
Source : Wikipedia
https://www.youtube.com/watch?v=o4uSGf6bw80
Main attractions : https://goo.gl/PctAZD
Reviews
Visiting hours : 10.00AM to 06.00PM
Tickets : https://goo.gl/2Ga3Qc
Getting there   : Bus 629 from MTR Admiralty Station Exit B.