Lan Kwai Fong
Central Hong Kong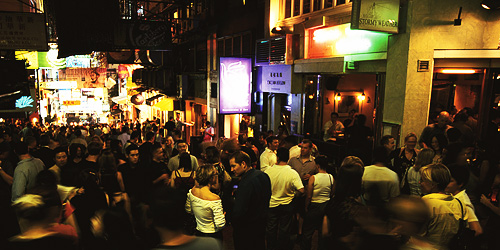 Lan Kwai Fong is one of Hong Kong's most popular nightlife hot spots and home to over 90 restaurants and bars. The atmosphere ranges from stylish wine pairings to raucous jelly shots and the food on offer is as diverse as the clientele.
Thanks to Hong Kong's dominance in Asian cinema, this centre of late-night revelry is so renowned that its official street sign is more photographed than many of the celebrities who haunt its clubs. Mostly, the area is crowded with people from the surrounding offices of Central, eager to shake off the working day or week. Get in the thick of it with a street side perch, or watch the antics on the road below from one of the upper floors.
Lan Kwai Fong usually hosts carnivals and other celebrations during major festivals, such as Halloween , Christmas and New Year  and has its own beer festival.
Source: discoverhongkong.com
Lan Kwai Fong is a small square of streets in Central, Hong Kong. The area was dedicated to hawkers before the Second World War, but underwent a renaissance in the mid-1980s. It is now a popular expatriate haunt in Hong Kong for drinking, clubbing and dining.
The area is defined by D'Aguilar Street and the smaller lane, an L-shaped, cobble-stoned lane. Both streets turn 90 degrees to form a rectangle. It is near the Mid-Levels. Its eating and drinking establishments are considered upmarket in price and the area is also considered a tourist spot. From the west side of the rectangle, Wo On Lane and Wing Wah Lane extend to host several more spots for drinks and food. The area arguably extends to Wellington Street and Wyndham Street, through to the Hong Kong Fringe Club. It is also home to a small number of art galleries.
The Lan Kwai Fong Association is a non-profit making business chamber which groups together over 100 restaurants, bars, clubs, retailers and service providers in Lan Kwai Fong to promote the unique Lan Kwai Fong culture and charms to locals and the world.
Source : wikipedia
https://www.youtube.com/watch?v=72eNZOtEbtE
Reviews
Getting there : MTR Central Station Exit D2, walk along Theatre Lane, and up D'Aguilar Street.