Jumbo Kingdom
Shum Wan Pier Drive, Wong Chuk Hang, Aberdeen, Hong Kong
Phone : +852 2553 9111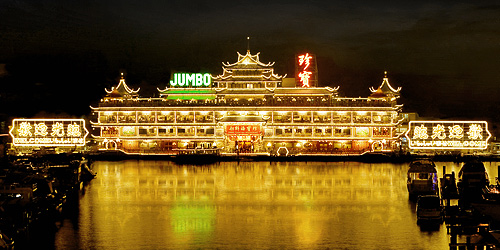 In Aberdeen, modernity meets tradition with skyscrapers overlooking a community living on traditional junks. The typhoon shelter on the south side of Hong Kong Island is also a popular seafood dining spot and home to Jumbo Kingdom, one of the world's largest floating restaurants.
Designed like a Chinese palace, the restaurant can seat up to 2,300 diners in a multi-faceted complex, which includes a tea garden and a gourmet restaurant  serving high-quality traditional Chinese and modern fusion dishes.
Source: discoverhongkong.com
Website : www.jumbo.com.hk
Attractions
Top deck: A restaurant and bar located on the top deck of Jumbo which serves western cuisine. Top deck was opened in 2005 and is managed by Café Deco Group.
Dragon Court: Dragon Court is a fine dining Chinese restaurant which serves authentic and innovative Cantonese cuisine located on the first deck of Jumbo. The interior design of the restaurant is a mixture of Ming Dynasty and contemporary Chinese.
Cooking Academy: A Chinese culinary school taught by the chefs of Jumbo Kingdom.
Sampan Dining: Visitors can experience the nostalgic Hong Kong dining experience from a bygone era, the Typhoon Shelter seafood meal on a sampan.
The Chinese Tea Garden
Pier Plaza
Bronze ware Exhibition
Wine Garden
A traditional Hong Kong-style food area is allocated at 4/F of Jumbo Kingdom, named SO-Kee Coffee Shop  Fast foods such as sandwiches, hotdogs, noodles, soft drinks, coffee & tea are provided, at lower prices.
Over 30 million visitors have visited Jumbo Kingdom, including Queen Elizabeth II,John Wayne, Chad Garvin, David bowie, Tom Cruise, Gwyneth Paltrow, Chow Yun Fat, Stephen Chow and Gong Li.
Source : Wikipedia
https://www.youtube.com/watch?v=3ZF-QekaD5k
Reviews
Timings : 11.00AM to 11.30PM ( Mon-Sat ) and 09.00AM to 11.30PM ( Sundays and Public holidays )
Getting there: :
Bus 70 from Exchange Square bus terminus (MTR Hong Kong Station Exit D), and get off near Aberdeen Promenade. Cross the highway, use the pedestrian tunnel, then turn right and walk towards the pier for the free shuttle service to Jumbo Kingdom.