Sentosa Island
Sentosa is a popular island resort  in Singapore, visited by some twenty million people a year. Attractions include a 2 km (1.2 mi) long sheltered beach, Fort Siloso, two golf courses, the Merlion, 14 hotels, and the Resorts World Sentosa, featuring the theme park Universal Studios Singapore. The name Sentosa translates as "peace and tranquility" in Malay, which was in turn derived from (Santosha) in Sanskrit.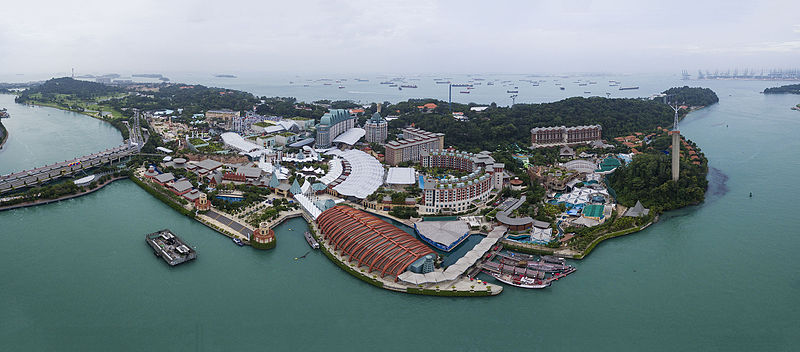 Sentosa can be reached from the Singapore mainland via a short causeway or Cable Car, which originates from Mount Faber and passes through HarbourFront en route to its final destination at Imbiah Lookout.
The island is also accessible by the Sentosa Express monorail, which replaced the old Sentosa Monorail that operated from 1982 to 2005. The Sentosa Express has three stations on Sentosa and one on mainland Singapore. The northern terminus of the line, which opened on 15 January 2007, is located at the VivoCity shopping mall on the mainland and the southernmost terminus, Beach Station, is located on Sentosa Island. In Vivocity, the mainland MRT is in turn served by the HarbourFront of the North East Line and the Circle Line.
Within Sentosa there are three bus services, identified as Bus 1, Bus 2 and Bus 3, and a tram service called the Beach Tram. Since 1998, passenger cars have been allowed to enter the island.
Visitors can also access the island via the Sentosa Boardwalk which is parallel to the causeway (which opened on 29 January 2011). The first two days of its opening were marked with free entry into Sentosa for visitors who walk, and subsequently a SGD 1 admission fee into Sentosa is charged. From 7 June 2014 to 4 January 2015, walk-in entry into Sentosa via the Sentosa Boardwalk is free on weekends and public holidays. Walk-in entry is also free for SG50 weekend.
Source : Wikipedia
https://www.youtube.com/watch?v=TSGIKDM4jSM
https://www.youtube.com/watch?v=alkLuFud8J0
https://www.youtube.com/watch?v=UR5zDn9Osl0
https://www.youtube.com/watch?v=wfHWfkp9A5Q
Admission and Tickets