Kuala Lumpur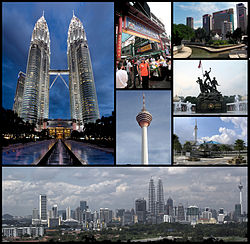 Kuala Lumpur is the national capital and most populous global city in Malaysia.  It is among the fastest growing metropolitan regions in South-East Asia, in terms of population and economy.
Rated as an alpha world city, Kuala Lumpur is the cultural, financial and economic centre of Malaysia due to its position as the capital as well as being a key city. Since the 1990s, the city has played host to many international sporting, political and cultural events including the 1998 Commonwealth Games and the Formula One Grand Prix. In addition, Kuala Lumpur is home to the tallest twin buildings in the world, the Petronas Twin Towers, which have become an iconic symbol of Malaysia's futuristic development.
Kuala Lumpur was ranked 48th among global cities by Foreign Policy's 2010 Global Cities Index and was ranked 67th among global cities for economic and social innovation by the 2thinknow Innovation Cities Index in 2010. In May 2015, Kuala Lumpur was officially recognised as one of the New7WondersCities together with Vigan City, Doha, Durban, Havana, Beirut, and La Paz.
Kuala Lumpur is the sixth most visited city in the world, with 8.9 million tourists per year. Kuala Lumpur plays host to many cultural festivals such as the Thaipusam procession at the Sri Mahamariamman Temple. Every year during the Thaipusam celebration, a silver chariot carrying the statue of Lord Muruga together with his consort Valli and Teivayanni would be paraded through the city beginning at the temple all the way to Batu Caves in the neighboring Selangor.

Climate & Weather
Protected by the Titiwingsa mountains in the east and Indonesia's Sumatra Island in the west, Kuala Lumpur has a tropical rainforest climate , which is warm and sunny, along with abundant rainfall, especially during the northeast monsoon season from October to March. Temperatures tend to remain constant. Maximums hover between 32 and 33 °C (90 and 91 °F) and have never exceeded 38.5 °C (101.3 °F), while minimums hover between 23.4 and 24.6 °C (74.1 and 76.3 °F) and have never fallen below 14.4 °C (57.9 °F).
Airport
Kuala Lumpur International Airport (KLIA)  is one of the major airports in South East Asia. Built at a cost of US$3.5 billion in Sepang district of Selangor, it is located approximately 45 kilometres (28 mi) south of Kaula Lumpur city centre and serves the Greater Klang Valley conurbation.
Source :Wikipedia
Map of Kuala Lumpur
To get to the City from Airport
Rail Journey Planner