Kumbhalgarh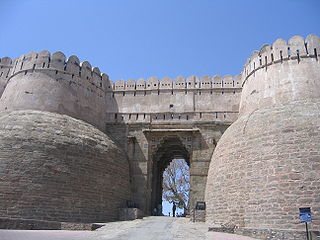 Kumbhalgarh is in Rajsamand district in Rajasthan. The town of Rajsamand is the district headquarters. The city and district are named for Rajsamand Lake, an artificial lake created in the 17th century by Rana Raj Singh of Mewar. The district had been constituted on 10 April 1991 from Udaipur district.
The Aravalli Range forms the northwestern boundary of the district, across which lies Pali District. Ajmer District lies to the north, Bhilwara District to the northeast and east, Chittorgarh District to the southeast, and Udaipur District to the south. The district lies in the watershed of the Banas River and its tributaries. Some other rivers are: Ari, Gomati, Chandra and Bhoga.
Widely known as Kumbhalmer, Kumbhalgarh is regarded as the most distinct and famous tourist place in the entire state of Rajasthan. It is the birthplace of a great warrior of Mewar, Maharana Pratap and is situated in close vicinity of another astounding place, Udaipur, just 100 Kms away.