Jodhpur
Jodhpur is 300 kms. From Jaisalmer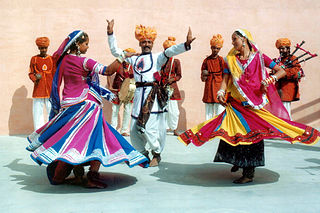 Jodhpur  is the second largest City in the state of Rajasthan. It was formerly the seat of a princely state of the samr name, the capital of the kingdom known as Marwar. Jodhpur is a popular tourist destination, featuring many palaces, forts and temples, set in the stark landscape of the Thar Desert.

The city is known as the "Sun City" for the bright, sunny weather it enjoys all the year round. The old city circles the fort and is bounded by a wall with several gates. However, the city has expanded greatly outside the wall over the past several decades. Jodhpur lies near the geographic centre of Rajasthan state, which makes it a convenient base for travel in a region much frequented by tourists.
Source : wikipedia
Climate
Summer season : The climate of Jodhpur is typical desert type, with scorching summers. In summer the maximum temperature is around 41 °C and the minimum temperature is around 22 °C.
Monsoon or Rainy season : The monsoon season tends to fall between June and September, with the climate quickly changing following the build up of constant heat and the arrival of thick clouds.
Winter season : The winter months temperature varies from 10° C to 36° C.January is the coldest month of the winter.
Best time to visit : October to March
Airport
Civil airport road, Jodhpur, Rajasthan 342011
Phone :  0291 251 2934
Jodhpur Airport is a civil enclave airport in Jodhpur, Rajasthan, India. It shares its airside with the Jodhpur Air Base of the Indian Air Force.
Railway Station
Jodhpur railway station is a major railway station located in Jodhpur, Rajasthan, India.
Maharaja Umaid singh statue circle, Station Rd, Ratanada, Jodhpur, Rajasthan 342001
Jodhpur tourist map