Jaisalmer
Jaisalmer is 331 kms.from Bikaner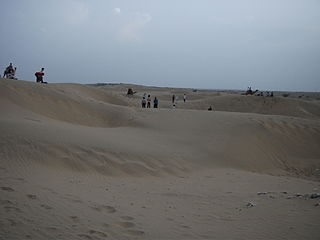 Jaisalmer  is a city in the Indian state of Rajasthan. It is located 575 kilometres (357 mi) west of the state capital Jaipur. It is a World  heritage site. It was once known as Jaisalmer state. The town stands on a ridge of yellowish sandstone, crowned by a fort , which contains the palace and several ornate Jain temples. Many of the houses and temples are finely sculptured. It lies in the heart of the Thar desert (great Indian desert) and has a population of about 78,000. It is the administrative headquarters of Jaisalmer district.
Jaisalmer is named after Maharawal Jaisal Singh, a Rajput king who founded the city in 1156 AD. "Jaisalmer" means "the Hill Fort of Jaisal". Jaisalmer is sometimes called the "Golden City of India" because the yellow sand and the yellow sandstone used in every architecture of the city gives a yellowish-golden tinge to the city and its surrounding area.
It is the largest district of Rajasthan and one of the largest in the country. on the west & south-west by the Pakistani border,. The length of international border attached to Jaisalmer District is 471 km (293 mi).
Source : wikipedia
Climate
April to Au\gust is the summer season and the maximum temperature is around 41.6 °C (106.9 °F) while the minimum is 25 °C (77 °F). September to October is the monsoon period and the average rainfall is 209.5 millimeters (8.25in).November to March is the winter season and the temperature is usually around 23.6 °C (74.5 °F) and the minimum is 7.9 °C (46.2 °F). The average rainfall is 209.5 millimetres (8.25 in).[2] Highest ever recorded temperature was 48.0 °C (118.4 °F)[3] and the lowest ever recorded temperature being −5.9 °C (21.4 °F)
Best time to visit : October to March
Airport
Jaisalmer Airport ( JSA ) is located 17 kilometres south-east of Jaisalmer in Rajasthan.. The airport operates as a civil enclave on an Indian Air Force base. The airport has a single runway of 9,000 feet (2,700 m) in length and 150 feet (46 m) in width. Carriers that have previously flown to/from the airport include Vayudoot and Kingfisher Airlines  and  as of 2015, it was never used for civil flights and was closed.
Railway Station
Jaisalmer Junction
217 National Highway 15 Indira Colony Indira Colony Jaisalmer Rajasthan 345001
Jaisalmer city map: