Jaipur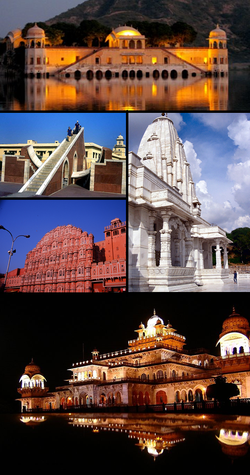 Jaipur, the capital of India's Rajasthan state, evokes the royal family that once ruled the region and that, in 1727, founded what is now called the Old City, or "Pink City" for its trademark building color. At the center of its stately street grid (notable in India) stands the opulent, colonnaded City Palace complex, which today houses several museum collections of textiles and art.
Climate
The weather of Jaipur is semi-arid type. Temperatures remain comparatively on the higher end all around the year. The summer season begins from April and continues till July. The temperature rises to an average of 30 oC. The city experiences monsoon showers in the months of August and September with frequent thunderstorms. Jaipur receives over 650 mm of rainfall each year. The winter months of November to February are mild and pleasant, with average temperatures ranging from 15–18 °C and with little or no humidity though occasional cold waves lead to temperatures near freezing.
Best time to visit: October to March
Airport : Jaipur Airport is in the southern suburb of Sanganer, 13 km from Jaipur, the capital of the Indian state of Rajasthan. Jaipur airport is the only international airport in the state of Rajasthan.
Airports Authority of India, Civil Airport, Sanganer, Jaipur, Rajasthan 302011
Phone :  0141 255 0623
Railway Station : Jaipur Railway Station is the largest of all railway stations in Jaipur. Jaipur also serves as the headquarters of the North Western Railway zone of the Indian Railways since 2002.
20, Station Rd, Barodia Scheme, Gopalbari, Jaipur, Rajasthan 302008
Phone No.: 0141-2204536
https://www.youtube.com/watch?v=KeSOZgmImwI
https://www.youtube.com/watch?v=W1mMkyoxns4
Tourist map of Jaipur