Bikaner
336 kms from Jaipur and 254 kms from Pushkar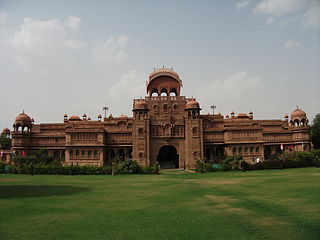 Bikaner is a city in the northwest of the state of Rajasthan in northern India. It is located 330 kilometres northwest of the state capital, Jaipur. Bikaner city is the administrative headquarters of Bikaner District and Bikaner division
Bikaner, the desert city of Rajasthan draws large number of tourists for its picturesque golden sand dunes, striking red sandstone forts, stunning palaces and havelis and certainly its camel safaris. The city boasts of having the best camels and has the largest Camel research and breeding farm in the world, hence the name camel country. The camel festival is also a major tourist attraction.
Climate
Lying in the Western Desert region of the state of Rajasthan, the climate of Bikaner is not different from the other cities of the same region. Bikaner's climate is typical to the Thar Desert area with extreme temperatures.
During the summer, the temperature in Bikaner rises very often above 48° Centigrade. The extreme heat becomes unbearable but humidity is not so high. Winter in Bikaner witnesses a drastic change when temperature comes down to 4° to 5° Centigrade.
Best time to visit : October to March
Airport : The nearest airports to Bikaner are in Jodhpur (251 km) and Jaipur (330 km), the capital of Rajasthan. These two airports, Jodhpur Airport and Jaipur International Airport, are well connected with regular flights from all the metros cities of India.
Railway Station :
Bikaner railway station comes under Bikaner division and connected with all broad guage lines with cities like Delhi, Mumbai, Bhubaneswar, Sambalpur, Bilashpur, Kanpur, Agra, Jalandhar, Baroda, Hyderabad, Kolkata, Guwahati, Jaipur, Surat, Jalandhar, Puri, Coimbatore, Thiruvananthapuram, Chandigarh, Kota, Jammu, Jodhpur and Ahmedabad.
Phone :  0151-2523131,2523132,2523134.
Bikaner city map :