Kalimpong
A state in West Bengal
Kalimpong can be included in Sikkim itinerary
Kalimpong is 73 kms from the state capital Gabgtok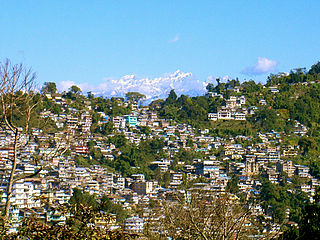 Kalimpong is a hill station in the Indian state of West Bengal. It is located at an average elevation of 1,250 metres (4,101 ft). The town is set to be the headquarters of the announced district of Kalimpong. The Indian Army's 27 Mountain Division is located on the outskirts of the town.
Kalimpong is known for its educational institutions, many of which were established during the British colonial period. It used to be a gateway in the trade between Tibet and India before China's annexation of Tibet and the Sino – Indian War. Kalimpong and neighbouring Darjeeling were major centres calling for a separate Gorkhaland state in the 1980s, and more recently in 2010.
The municipality sits on a ridge overlooking the Teesta River and is a tourist destination owing to its temperate climate, magnificent Himalayan beauty and proximity to popular tourist locations in the region. Horticulture is important to Kalimpong: It has a flower market notable for its wide array of orchids; nurseries, which export Himalayan grown flower bulbs, tubers and rhizomes, contribute to the economy of Kalimpong. Home to ethnic Nepalis, indigenous Lepchas, other ethnic groups and non-native migrants from other parts of India, the town is a religious centre of Buddhism. The Buddhist monastery Zang Dhok Palri Phodang holds a number of rareTibetan Buddhist scriptures.
The Kalimpong Science Centre, established under the Darjeeling Gorkha Hill Council (DGHC) in 2008 is a recent addition to its many tourist attractions.
Source : Wikipedia
Nearest Airport
The nearest airport from Kalimpong is Bagdogra, nearly 70kms away.
Nearest Railway station
The nearest Railway station is New Jalpaiguri, about 73 kms. away
Climate
Summer   : March to mid of June – The temperature varies from 14 to 25 degree centigrade.
Monsoon : June to September – The temperature varies from 18 to 25 degree centigrade.
Winter    : October to February – The temperature varies from 7 to 16 degrees centigrade.