Shimla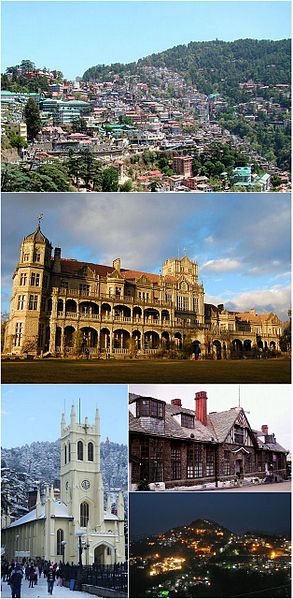 The former summer capital of the British in India, and the present capital of Himachal Pradesh, Shimla has been blessed with all the natural bounties which one can think of. It has got a scenic location, it is surrounded by green hills with snow capped peaks. The spectacular cool hills accompanied by the structures made during the colonial era creates an aura which is very different from other hill.
Bulging at its seams with unprecedented expansion, Shimla retains its colonial heritage, with grand old buildings, charming iron lamp posts and Anglo-Saxon names. The Mall,
packed with shops and eateries, is the centre of attraction of the town, and Scandal Point, associated with the former Maharaja of Patiala's escapades, offers a view of distant snow clad peaks.
Shimla is ideally located, and though there is an air service to the town, it is best reached by road that takes in the charms of the HIMALAYAN countryside at its best. There is a sense of nostalgia about SHIMLA, with its old bungalows and their gabled roofs and beautiful gardens.
Source : hpshimla.nic.in
Climate
Summer season is May to June and the temperature varies from 16-28 degree Celsius.
Monsoon season is July to September and the temperature varies from 13-20 degree Celsius.
Autumn season is October and November and the temperature varies from 10-23degree Celsius.
Winter season starts from December and ends by February. At this time temperature minus 7-10 degree Celsius.
Spring season is from March to April and the temperature varies from 10-20 degree Celsius with clear skies.
Best time to visit is September to November and from February to April.
Airport
Shimla Airport, situated in the region of Jabarhatti is a small airport having a runway of 1230 meters which can handle only average airlines to land. The other nearest airport is Chandigarh Airport.
Railway Station
The nearest railway station to Shimla is Kalka. Located 90 kms. from Shimla, Kalka railway station is the northern terminus of the Delhi-Kalka line and the starting point of the UNESCO World Heritage Site Kalka–Shimla Railway. It is located in the Indian state of Haryana.
Tourist map of Shimla