Manali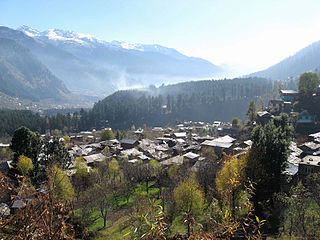 Manali is a hill station nestled in the mountains of the  Himachal Pradesh near the northern end of the Kulu Valley, at an altitude of 2,050 m (6,726 ft) in the Beas River Valley . It is located in the Kulu district, about 270 km (168 mi) north of the state capital, Shimla. The small town, with a population of 8,096, is the beginning of an ancient trade route to Ladakh and from there over the Karakonam Pass on to Yarkand and Khotan in the Tarim Basin. It is a popular tourist destination and serves as the roadway to other northern hill stations
Manali is located at about 40 km (25 mi) north of Kullu town. The town ranges in elevation from 1,800 m (5,900 ft) to 2,000 m (6,600 ft) in the uppermost Old Manali section.
Climate
The climate in Manali is predominantly cold during winters, and moderately cool during summers. The temperatures range from 4 °C (39 °F) to 20 °C (68 °F) over the year. The average temperature during summer is between 04 °C (39 °F) and 15 °C (59 °F), and between −15 °C (5 °F) and 05 °C (41 °F) in the winter.
Tourism in Manali received a boost after the rise of militancy in Kashmir in the late 1980s. Manali, once quiet village was transformed into a bustling town with many hotels and restaurants.
Airport
The nearest airport Bhuntar Airport (IATA code KUU) is at Bhuntar town, situated on NH21 about 50 km (31 mi) south of Manali and 10 km (6.2 mi) south of Kullu town. The airport is also known as Kullu-Manali airport and has more than a kilometre long runway. Air India and some private airlines have regular flights to the airport.  Chandigarh Airport is the nearest international airport.
Source : Wikipedia
Tourist map of manali