Lahaul and Spiti District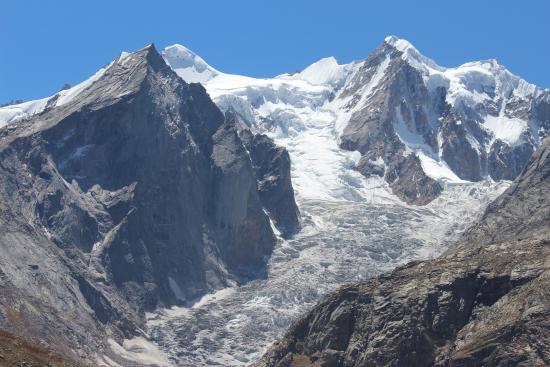 The district of Lahaul-Spiti in the Indian State of Himachal Pradesh consists of the two formerly separate districts of Lahaul and Spiti. The present administrative centre is Keylong in Lahaul. Before the two districts were merged, Kardang was the capital of Lahaul, and Dhankar the capital of Spiti. The district was formed in 1960..
Kunzum la or the Kunzum Pass (altitude 4,551 m; 14,931 ft) is the entrance pass to the Spiti Valley from Lahaul. It is 21 km from Chandra Tal. This district is connected to Manali through the Rohtang Pass (202 kms.). To the south, Spiti ends 24 km from Tabo, at the Sumdo where the road enters Kinnaur and joins with National Highway No. 22.
The two valleys are quite different in character. Spiti is more barren and difficult to cross, with an average elevation of the valley floor of 4,270 m (14,009 ft). It is enclosed between lofty ranges, with the Spiti river rushing out of a gorge in the southeast to meet the Sutlej River.
The natural scenery and Buddhist monasteries, such as Kye, Dhankar, Shashur, Guru Ghantal, Khungri Monastery in Pin Valley, Tnagyud Gompa of the Sakya Sect in Komic, Sherkhang Gompa in Lahlung (believed to be older than Tabo Monastery), the only Buddhist Mummy of a Monk in Gue around 550 years old and Chandra Taal Lake are the main tourist attractions of the region.
Source : Wikipedia
Climate : Since the valley is situated in rain shadow area, north of the Pir Panjal ranges the weather remains pleasant and quite comfortable during summers i.e.from May to Mid Oct. This is the best season to visit the valley. It seldom rains, and the Mercury level does not exceed 300 c and never falls below 150 c through out the period mentioned above. One can always enjoy bright sunshine wandering within lush green valley. There is little or no rain in monsoons. The climate remains dry & invigorating. The days are hot and night are extremely cold. Heavy/light woolens are recommended. During winter, i.e. from Nov. last to april because of western disturbances it snows heavily and the temp. goes down below minus. There is an average snowfall of about 7 feet.
Source : himachal.nic.in
https://www.youtube.com/watch?v=yfqLw7eH0o4
https://www.youtube.com/watch?v=g_D3HaBUn2o
Best time to visit : The summer months from late May to late September are the best time to visit Spiti.
Reviews