Kulu
Kulu – Narkanda there is a shorter route. The distance is 167 km, a journey of 6 hours. There is no need to travel back to Shimla but can reach Kulu by crossing the Jallori Pass and entering Kullu Valley through Banjar.
This route offers panaromic view of Kullu Valley. This route remains close from November end till March due to heavy snowfall on Jallori Pass.
Located at a distance of 210 kms.from Shimla and 42 kms. from Manali.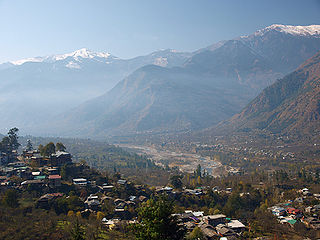 Kullu, or Kulu, is the capital town of the Kullu Distrct in the  state of Himachal Pradesh. It is located on the banks of the Beas river in the Kullu Valley about ten kilometres north of the airport at Bhuntar.
Kullu is a broad open valley formed by the Beas river between Manali and Largi. This valley is famous for its temples, beauty and its majestic hills covered with pine and deodar  forest and sprawling apple orchards. The course of the Beas river presents a succession of magnificent, clad with forests of deodar, towering above trees of pine on the lower rocky ridges. Kullu valley is sandwiched between the Pir Panjal, Lower Himalayan and Great Himalayan range.
The Kullu Valley is the largest valley in the Kullu district, in the state of Himachal Pradesh. The Beas River runs through the middle of the valley.
Climate
December and January during winter observe lowest temperatures ranging from 4 °C to 20 °C, with some snowfall. Annual highest temperature in summer ranges from 25 °C to 37 °C during May to August. Months of July and August are rainy because of monsoon, having around 15 cm rainfall monthly. Climate is pleasant in October and November.
Airport
The nearest airport (IATA code KUU) is at Bhuntar town, situated on NH21 at the confluence of the Parvati and Beas rivers (latitude 31.8763 N and longitude 77.1541 E), about 10 km (6.2 mi) south of Kullu town. The airport is also known as Kullu-Manali airport and has more than a kilometre long runway. Indian Airlines and some private airlines have regular flights to the airport. Chandigarh airport is the nearest large airport.