Dharamsala (McLeod Ganj)
Located at a distance of 200kms. from Manali.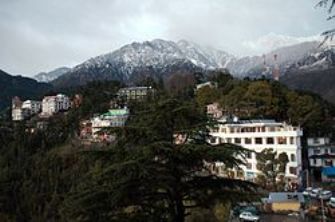 Dharamsala (also Dharamshala) is a city and a municipal corporation in Kangra district in the Indian state of Himachal Pradesh. It is the district headquarters. It was formerly known as Bhagsu. The Dalai Lama's residence and the headquarters of Central Tibetan Administration (the Tibetan government in exile) are in Dharamshala. Dharamshala is 18 kilometres from Kangra.
Dharamshala has been selected as one of the hundred Indian cities to be developed as a smart city under PM Narendra Modi's  flagship Smart Cities Mission.
The village of McLeodGanj, lying in the upper reaches, is known worldwide for the presence of the Dalai Lama. On 29 April 1959, the 14th Dalai Lama (Tenzin Gyatso) established the Tibetan exile administration in the north Indian hill station of Musoorie.
Dharamshala is the centre of the Tibetan exile world in India. Following the 1986 Tibetan uprising there was an influx of Tibetan refugees who followed the 14th Dalai Lama. His presence and the Tibetan population has made Dharamshala a popular destination for Indian and foreign tourists, including students studying Tibet.
One of the main attractions of Dharamshala is Triund hill. Jewel of Dharamshala, Triund is one day trek at the upper reaches of McLeodGanj, about 9 km from McLeodGanj.
Several thousand Tibetan exiles have now settled in the area, and most live in and around McLeodganj in Upper Dharamshala, where they have built monasteries, temples and schools. McLeodGanj is sometimes known as 'Little Lhasa ", after the Tibetan capital city, or 'Dhasa' (a compound of 'Dharamshala' and 'Lhasa'). Dharamshala is the winter capital of Himachal Pradesh. The Legislative Assembly is at Sidhbari, near the Chinmaya Tapovan Ashram, and the winter sessions of the Government are held there.
Climate
Dharamshala has a monsoon-influenced humid subtropical climate (Cwa). Summer starts in early April, peaks in early June (when temperatures can reach 36 °C) and lasts till mid-June. From July to mid-September is the monsoon season when up to 3000 mm (120 inches) of rainfall can be experienced, making Dharamshala one of the wettest places in the state. Autumn is mild and lasts from October to the end of November.
Autumn temperatures average around 16–17 °C. Winter starts in December and continues until late February. Snow and sleet are common during the winter in upper Dharamshala (including McLeodganj, Bhagsu Nag and Naddi)
Winter is followed by a short, pleasant spring until April. Historically, the Dhauladhar mountains used to remain snow-covered all year long.
The best time to visit are the autumn and spring months.
Source : wikipedia
Airport
Gaggal, NH20, Dharamshala, Himachal Pradesh 176209
Phone:0189 223 3430
The nearest airport to Dharamshala is codes|DHM|VIGG, about 12 km to the town's south and about 10 km north of Kangra, Himachal Pradesh town.
Railway Station
The nearest railway station is Kangra railway station, Himachal Pradesh  of  Kangra Valley Railway line, 94 kms. away
https://www.youtube.com/watch?v=C5q5yBCGzkc