Dalhousie
143 kms. from Dharamsala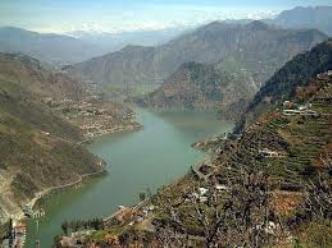 Dalhousie is a hill station in Chamba district, in the northern state of Himachal Pradesh, India. It is situated at an elevation of 1,970 meters above sea level.
Dalhousie Town was named after Lord Dalhousie, who was the British Governor-General in India while establishing this place as a summer retreat.
It is built on and around five hills, Kathalagh, Potreyn, Terah, Bakrota and Bhangora. Located on the western edge of the Dhauladhar mountain range of the Himalayas, it is surrounded by snow-capped peaks. Dalhousie is situated between 6,000 and 9,000 feet (2,700 m) above sea level. The best time to visit is in the summer, and the peak tourist season is from May to September. Scottish and Victorian architecture are prevalent in the bungalows and churches in the town.
Dalhousie is a gateway to the ancient Chamba Hill State, now Chamba District of the state of Himachal Pradesh of India. This hill region is a repository of ancient Hindu culture, art, temples, and handicrafts preserved under the longest-running single dynasty since the mid-6th century. Chamba is the hub of this culture. Bharmour, the ancient capital of this kingdom, is home to the Gaddi and Gujjar tribes. It has 84 ancient temples dating from the 7th–10th centuries AD.
Dalhousie, being a beautiful tourist spot, plays an important role in the economy of the state. The major industry is tourism. While Dalhousie has a large number of hotels to accommodate the visiting tourists, the town also offers several non-hotel stays like independent villas and bungalows, which offer an alternative to typical hotels. There are just over 600 hotels in Dalhousie.
Source : Wikipedia
Climate
Summers: in Dalhousie, the summer starts around middle of March and continues till June middle. Temperature is usually moderate, ranging from 15.5 deg C to about 25.5 deg C.
Winters: During the winters, there is a lot of snowfall and rain also, in Dalhousie, starting usually from November till the month of February.
Monsoons: In Dalhousie, the rainy season starts from June till September, during which there is about 214 cm of rainfall. Mountains appear very shinning and clean whenever there is rain, with scenic beauty.
Airport
The nearest airport is Dharamsala Airport. 145 kms. away.
Railway station
Pathankot's Chakki Bank railhead is the nearest railway station from Dalhousie (approximately71 kilometres).
https://www.youtube.com/watch?v=zFuT263gvv0