Chamba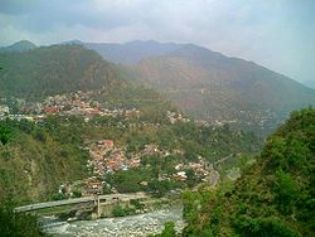 Chamba, a district in Himachal Pradesh, India, the land of lord Shiva is famous for its untouched natural beauty. The district has Dalhousie, Khajjiar, Chamba Town, Pangi and Bharamour as main tourist destinations. There are five lakes, five wild life sanctuaries wild life sanctuaries and countless number of temples.
Chamba, is a small but attractive tourist destination of Himachal Pradesh, is known for its exquisite natural beauty. The place, located amidst picturesque and verdant valleys, is visited by tourist round the year. Sub-Himalayan range of mountains, full of diverse flora and fauna, make Chamba an exhilarating experience. Pleasing climate of the place is another factor why Chamba is one among the popular tourist destinations in the whole of India.
Source : http://hpchamba.nic.in/
Chamba is the only district in northern India to preserve a well-documented history from c. 500 AD. Its high mountain ranges have given it a sheltered position and helped in preserving its centuries-old relics and numerous inscriptions. The temples erected by rajas of Chamba more than a thousand years ago continue to be under worship and the land grant-deeds executed on copper plates by them continue to be valid under the law.
Source : Wikipedia
Climate: The temperatures in summer vary between 38 °C (100 °F) and 15 °C (59 °F) and in winter: 15 °C (59 °F) and 0 °C (32 °F). The maximum temperature recorded in summer is 39 °C (102 °F) and the minimum temperature in winter is −1 °C (30 °F). Climatically March to June is said to be the best period to visit Chamba, which is a well known hill station.
Nearest Airport : The Pathankot airport is the nearest airport at a distance of 120 kilometres. Amritsar, Chandigarh and Kangra are other airports near to the town apart from the Pathankot airport.
Nearest Railway Station : The nearest railway station is at Pathonkot, 120 Km from Chamba town.
https://www.youtube.com/watch?v=qyNM_N-0_Pg