Himachal Pradesh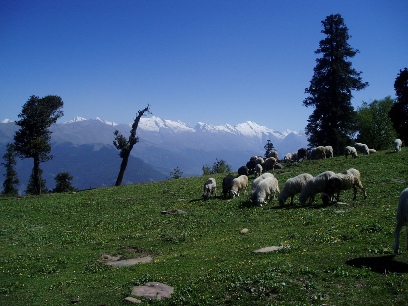 Himachal Pradesh literally "Snow-laden Province" is a state of India located in Northern India. It is bordered by Jammu and Kashmir on the north, Punjab and Chandigarh on the west, Haryana on the south-west, Uttarakhand on the south-east and by the Tibet Autonomous Region on the east. Him means snow in Sanskrit, and (anchal means lap) the literal meaning of the state's name is "in the lap of snow ." It was named by Acharya Diwakar Datt Sharma, one of the most eminent Sanskrit scholars of Himachal Pradesh.
Himachal Pradesh is famous for its natural beauty, hill stations, and temples. Himachal Pradesh has been ranked fifteenth in the list of the highest per capita incomes of Indian states and union territories for year 2013-14. Many perennial rivers flow in the state, and numerous hydroelectric projects set up. Himachal produces surplus hydroelectricity and sells it to other states such as Delhi, Punjab, and Rajasthan. Hydroelectric power projects, tourism, and agriculture form important parts of the state's economy.
The state has several valleys, and more than 90% of the population living in rural areas. Practically all houses have a toilet and 100% hygiene has been achieved in the state. The villages have good connectivity with roads, public health centres, and now with high-speed broadband.
Shimla district has maximum urban population of 25%. It has incorporated environmental protection and tourism development has been aided with a government ban on the use of polyethylene bags, reducing litter, and tobacco products, to aid people's health.
Tourism
Tourism in Himachal Pradesh is a major contributor to the state's economy and growth. The mountainous state with its diverse and beautiful Himalayan landscapes attracts tourists from all over the world. Hill stations like Shimla, Manali, Dalhousie, Chamba, Dharamsala and Kullu are popular destinations for both domestic and foreign tourists.The state has many important pilgrimage centres with prominent Hindu temples like Naina Devi Temple, Vajreshwari Devi Temple, Jwala Ji Temple, Chintpurni, Chamunda Devi Temple, Baijnath Temple, Bhimakali Temple, Bijli Mahadev, Renuka Lake and Jakhoo Temple. Like Uttarakhand, the state is also referred to as "Dev Bhoomi" (literally meaning Abode of Gods) due to its mention in ancient holy texts and occurrence of large number of historical temples in the state.
The state is also known for its adventure tourism activities like ice skating in Shimla, paragliding in Bir-billing and Solang valley, rafting in Kullu, skiing in Manali boating in Bilaspur and trekking, horse riding and fishing in different parts in the state. Spiti Valley in Lahaul & Spiti District situated at an altitude of over 3000 metres with its picturesque landscapes is an important destination for adventure seekers. The region also has some of the oldest Buddhist Monasteries in Asia.
The state is also a famous destination for film shooting. Movies like Roja, Henna, Jab We Met, Veer-Zaara, Yeh Jawaani Hai Deewani and Highway have been filmed in Himachal Pradesh.
Himachal hosted the first Paragliding World Cup in India from 24 October to 31 October in 2015. Venue for paragliding world cup was Bir Billing, which is 70 km from famous tourist town Macleod ganj, located in the heart of Himachal in Kangra District. Bir Billing is the centre for aero sports in Himachal and considered as best for paragliding.[50] Buddhist monasteries, trekking to tribal villages, mountain biking are other activities to do here.
Transportation
Air
Himachal has three domestic airport in Kangra, Kullu and Shimla districts. The air routes connect the state with Delhi and Chandigarh.
Bhuntar Airport is in Kullu district, around 10 kilometres (6 mi) from district headquarters.
Gaggal Airport is in Kangra district, which is around 10 kilometres from Kangra
Shimla Airport is around 21 kilometres (13 mi) west of the city.
Railway
Himachal is famous for its narrow-gauge railways. One is the Kalka-Shimla Railway, a UNESCO World Heritage Site, and another is the Pathankot-Jogindernagar Railway. The total length of these two tracks is 259 kilometres (161 mi). The Kalka-Shimla Railway passes through many tunnels, while the Pathankot–Jogindernagar meanders through a maze of hills and valleys. It also has broad-gauge railway track, which connects Amb (Una district) to Delhi. A survey is being conducted to extend this railway line to Kangra (via Nadaun). Other proposed railways in the state are Baddi-Bilaspur, Dharamsala-Palampur and Bilaspur-Manali-Leh.
Road
Roads are the major mode of transport in the hilly terrains. The state has road network of 28,208 kilometres (17,528 mi), including eight National Highways (NH) that constitute 1,234 kilometres (767 mi) and 19 State Highways with a total length of 1,625 kilometres (1,010 mi). Some roads get closed during winter and monsoon seasons due to snow and landslides. Hamirpur has the highest road density in the state.
Source : Wikipedia
Foreign, Nationals require Inner Line Permits to visit certain inner area of Kinnaur Distt. and Spiti of the Lahaul Spiti Distt. Bordering Tibet. The Permits are issued by SDM, Manali and SDM, Reckong Peo, Deputy Commissioner, Lahaul Spiti at Keylong and Deputy Commissioner, Kinnaur at Reckong Peo.
Tour operators may help to get the inner line permit