Chandigarh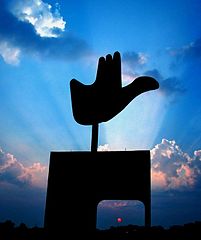 Chandigarh is a city, located near the Sivalik Hills and a union territory in the northern part of India of  that serves as the capital of the states of Punjab and Haryana. As a union territory, the city is ruled directly by the Union Government and is not part of either state. Chandigarh and adjoining cities of Mohali (Punjab) and Panchkula (Haryana) are together called Chandigarh Tricity.
The city of Chandigarh was one of the early planned cities in the post-independence India and is known internationally for its architecture and urban design. The master plan of the city was prepared by Swiss-French architect Le Corbusier, transformed from earlier plans created by the Polish architect Maciej Nowicki and the American planner Albert Mayer. Most of the government buildings and housing in the city, however, were designed by the Chandigarh Capital Project Team headed byPierre Jeanneret, Jain Drew and Maxwell Fry. In 2015, an article published by BBC named Chandigarh as one of the perfect cities of the world in terms of architecture, cultural growth and modernisation.
Climate
The city experiences the following seasons and the respective average temperatures:
Spring: The climate remains the most enjoyable part of the year during the spring season (from February-end to early-April). Temperatures vary between (max) 13 °C to 20 °C and (min) 5 °C to 12 °C.
Autumn: In autumn (from September-end to mid November.), the temperature may rise to a maximum of 30 °C. Temperatures usually remain between 10° to 22° in autumn. The minimum temperature is around 6 °C.
Summer: The temperature in summer (from Mid-April to June-end) may rise to 44 °C. The temperatures might sometime rise to 44 °C in mid-June. Temperatures generally vary between 40 to 42 °C.
Monsoon: During monsoon (from early-July to mid-September), Chandigarh receives moderate to heavy rainfall and sometimes heavy to very heavy rainfall (generally during the month of August or September).
Winter: Winters (November-end to February-end) are mild but it can sometimes get quite chilly in Chandigarh. Average temperatures in the winter remain at (max) 5 °C to 14 °C and (min) -1 °C to 5 °C.
Airport
Chandigarh Airport, 11 kms from City center, has scheduled commercial flights to major cities of India.
Railway Station
Chandigarh railway station, 8 kms. from City center,  lies in the Northern Railway Zone of the Indian Railway network and provide connectivity to all the regions of India and some major Indian cities.
Source : wikipedia
Tourist map of Chandigarh