Amritsar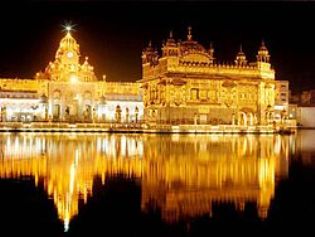 Amritsar has a semiarid climate, typical of Northwestern India and experiences four seasons primarily: winter season (December to March) with temperature ranges from 0 °C (32 °F) to about 15 °C (59 °F), summer season (April to June) where temperatures can reach 42 °C (108 °F), monsoon season (July to September) and post-monsoon season (October to November). Annual rainfall is about 681 millimeters (26.8 in). The lowest recorded temperature is −7.6 °C (18.3 °F), was recorded on 9 December 1996 and the highest temperature, 48.1 °C (118.6 °F), was recorded on 22 May 2013.
Airport
Amritsar's international airport, Sri Guru Ram Dass Jee international Airport, has more than 160 domestic and international flights during the week..
Railway Station
Amritsar is well connected by rail to almost all major cities in India. Amritsar railway station is the main terminal station. There is a special train (Samjhauta Express) that runs west to Wagah (Attari Border), which is the last station on the border in India before continuing on to Pakistan.
Source : Wikipedia
Tourist map of Amritsar