'London Eye-on-Sea': Vertical pier to open in Brighton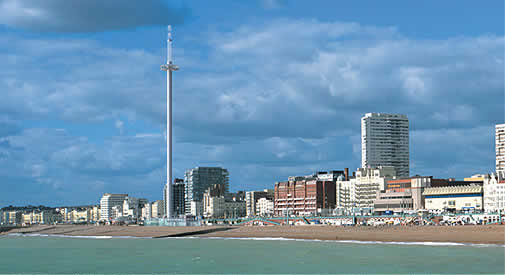 Click On The URL Or PICTURE for the complete News, Videos and more photos.
The designers of the London Eye today insisted their long-awaited "follow-up" in Brighton will win over its vocal critics as quickly as the hugely successful South Bank landmark.
The "vertical pier" on Brighton's seafront opens to the public on Thursday — 12 years after it was first conceived by the husband and wife architectural team who dreamed up the London version, Britain's most popular paid-for attraction.
Officially known as the British Airways i360, the "London Eye-on-Sea" will lift up to 200 passengers at a time in a circular pod that rises 138 metres up a steel pole at 0.4 metres a second.
The £46 million structure is the thinnest tall tower on Earth at just four metres wide and will be the highest observation platform in Britain outside London, giving views of up to 26 miles.
However, many locals have expressed bitter objections to what they have dubbed the "iSore", with one critic describing it as "a bonkers outsized flagpole".
David Marks, co-founder with his wife Julia Barfield of the Marks Barfield architectural practice, said there had been a similarly critical response to London's huge ferris wheel in the run-up to its launch in March 2000. He said: "Before the London Eye opened you had characters like former arts minister Lord St John of Fawsley calling it a 'white elephant' and some others who were implacably opposed.
"Now the vast majority of people who have experienced it and have seen it as a finished piece of engineering have come round to it. It is greatly loved by most Londoners and I hope the same thing will happen in Brighton.
"I have to say that of the people we meet or bump into nearly all are incredibly positive and excited about it, I can't remember the last time anyone said anything negative to us."
The tower stands at the point where the ruined West Pier once joined the Brighton esplanade. Ms Barfield said: "The residents of Regent Square were opposed to the West Pier originally and said it was going to spoil their view. People are slow to embrace change, so let's see."
The pod will take 20 minutes to rise and descend during the daytime and slow to 30 minutes in the evenings when there will be a bar open during the "flight".
The Standard's Sophia Sleigh took an advance trip in the pod and from 450ft up said she was "treated to spectacular panoramic coastal views that stretched for miles, offering a view until now only afforded to seagulls".