Haw Par Villa
262 Pasir Panjang Road, Singapore 118628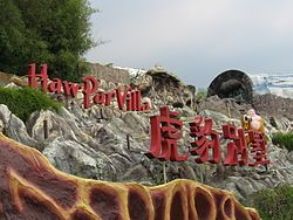 Haw Par Villa  is a theme park located along Pasir Panjang Road, Singapore. The park contains over 1,000 statues and 150 giant dioramas depicting scenes from Chinese mythology, folklore, legends, history, and illustrations of various aspects of Confucianism.
The park, originally called Tiger Balm Gardens, was built in 1937 by the Burmese-Chinese brothers Aw Boon Haw and Aw Boon Par, the developers of Tiger Balm, as a venue for teaching traditional Chinese values. In 1988, the Singapore Tourism Board took charge of the Tiger Balm Gardens and renamed it "Haw Par Villa Dragon World". The Haw Par in the park's name is based on the Aw brothers' personal names—Haw andPar, which mean "tiger" and "leopard" respectively. The dioramas and statues were restored, while plays, acrobatic displays and puppet shows were organised and held there.
The park management made a profit during its first year of operations after renovations in 1994, broke even in 1995, but started incurring losses over the next three years and was forced to provide free entry in 1998. In March 2001, the Singapore Tourism Board renamed it "Tiger Balm Gardens".
The best known attraction in Haw Par Villa is the Ten Courts of Hell, which features gruesome depictions of Hell  in Chinese mythology and Buddhism. This attraction used to be set inside a 60-metre long trail of a Chinese dragon  but the dragon has been demolished, so the attraction is now covered by grey stone walls.
Other major attractions include dioramas of scenes from Journey to the West, Fengshen Bang, The Twenty-four Filial Exemplars , Legend of the White Snake, Romance of the Three Kingdoms; statues of mythological figures such as the Laughing Buddha and Guanyin, and historical personages such as Jing Ziya,Su Wu and Lin Zexu; the 12 animals in the Chinese zodiac, and others. There are also monuments dedicated to the Aw brothers and their parents.
Source : Wikipedia
https://www.youtube.com/watch?v=8Ab5w4bTInw
https://www.youtube.com/watch?v=zhoh_24gSXo
https://www.youtube.com/watch?v=64aqnp5WaJ4
Reviews
Opening hours : 09.00AM to 07.00PM (last entry 06.00PM)
Entry : Free
Getting there : MRT Haw Par Villa