The Venetian Macau
Estrada da Baia de Nossa Senhora da Esperanca, Macau
Phone : +853 2882 8888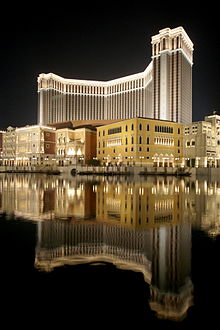 The Venetian Macau  is a luxury hotel and casino resort in Macau owned by Las Vegas Sands. The Venetian is a 39-story, $2.4 billion anchor for the seven hotels on the Cotai Strip in Macau. The 10,500,000-square-foot (980,000 m2) Venetian Macao is modeled on its sister casino resort The Venetian Las vegas, and is the seventh- largest building in the world   by floor area. The Venetian Macau is also the largest casino in the world, and the largest single structure hotel building in Asia.
The main hotel tower was finished in July 2007 and the resort officially opened on 28 August 2007. The resort has 3000 suites, 1,200,000 sq ft (110,000 m2) of convention space, 1,600,000 sq ft (150,000 m2) of retail, 550,000 square feet (51,000 m2) of casino space – with 3400 slot machines and 800 gambling tables and a 15,000 seat Cotai Arena for entertainment and sports events.
The casino measures 546,000 sq ft (50,700 m2). It is further divided into 4 themed gaming areas namely Golden Fish, Imperial House, Red Dragon and Phoenix. The casino consists of over 3400 slot machines and 800 gambling tables.
Source : Wikipedia
In the tourist area of Venetian Macau, there are the Venetian styled buildings, canals and plaza. The most amazing thing is that all of these are on the third floor of the resort hotel. The Grand Canal Shoppes is also on the third floor and is the largest indoor shopping mall in Macau with an area of 22 acres and with more than 350 stores.
There is a Grand Canal Shoppers area where, as in Venice you are able to relax on a gondola as the pier is near the plaza with the trip taking 15 minutes accompanied by songs from the gondoliers. The San Luca, Marco Polo and Grand Canals are all named after the famous Venetian canals. Beside the canals there is the San Marco Square, which was also named after the Italian plaza. An artificial sky is created at San Marco Square with Grafik 5000 lighting control system to present different levels of light with the ability to give the desired blue sky effect at any time of day.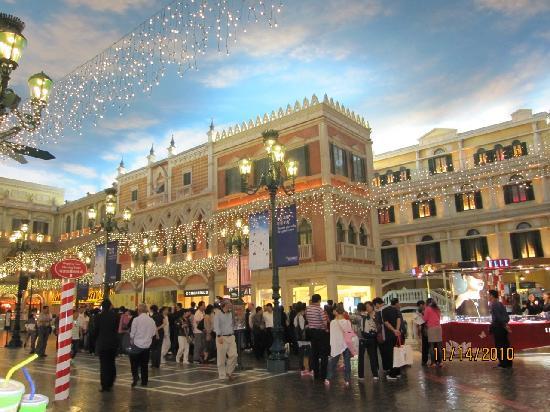 https://www.youtube.com/watch?v=_ixx-BmCZR4
https://www.youtube.com/watch?v=n9zcEHyfWG8
Reviews
Opening hours : 10.00AM to 11.00PM Sunday – Thursday 10.00AM to 12.00Midnight Friday to Saturday
Getting here : Complimetary Venetian Shuttle Bus to Venetian Macau from :
1.Macau International Airport
2.Gongbei border gate
3.Ferry terminal