Ruins of St.Paul's
Company of Jesus Square
Phone :  +853 6238 6441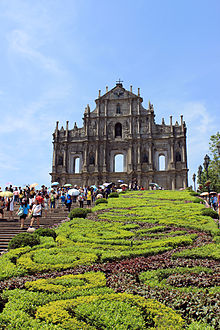 This is a World Heritage Site
The Ruins of St.Paul's are the ruins of a 16th-century complex in Macau including what was originally St. Paul's College and the Church of St. Paul also known as "Mater Dei ", a 17th-century Portuguese church dedicated to Saint Paul the Apostle. Today, the ruins are one of Macau's best known landmarks. They are often, but incorrectly, mentioned as a former cathedral (see Macau Cathedral), a status they never had. In 2005, they were officially listed as part of the Historic Centre of Macau, a Unesco World heritage Site.
The  Ruins of St.Paul's now consist of the southern stone façade—intricately carved between 1620 and 1627 by Japanese Christians in exile from their homeland and local craftsmen under the direction of Italian Jesuit Carlo Spinola—and the crypts of the Jesuits who established and maintained the Cathedral. The façade sits on a small hill, with 68 stone steps leading up to it. The carvings include Jesuit images with Oriental themes, such as The Blessed Virgin Mary stepping on a seven-headed hydra, described in Chinese characters as 'Holy Mother tramples the heads of the dragon'. A few of the other carvings are of the founders of the Jesuit Order, the conquest of Death by Jesus, and at the very top, a dove with wings outstretched.
The ruins were restored by the Macanese government into a museum, and the façade is now buttressed with concrete and steel in a way which preserves the aesthetic integrity of the façade.[citation needed] A steel stairway allows tourists to climb up to the top of the façade from the rear.
It is customary to throw coins into the top window of the ruins from the stairs, for luck.[citation needed]
Source : Wikipedia
https://www.youtube.com/watch?v=LUW-1UTh6Ak
Reviews
Opening hours : 09.00AM to 06.00PM
Entry fee : Free
Getting there : Bus No.8A, 17, 18, 19, 26
Nearby attractions : Lou Kau Mansion, Camoes Garden, St.Domingo's Church, Senado Square, Cathedral Mecau, Casino Lisboa