Macau Tower
Phone : +853 2893 3339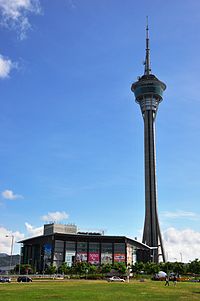 Macau Tower Convention & Entertainment Centre, also known as Macau Tower, is a tower located in the Special Administrative Region of the People's Republic of china. Macau used to be a Portuguese colony until 1999. The tower measures 338 m (1,109 ft) in height from ground level to the highest point. An observation deck with panoramic views, restaurants, theaters, shopping malls and the Skywalk X, a thrilling walking tour around the outer rim. It offers the best view of Macau and in recent years has been used for a variety of adventurous activities. At 233 meters, the Macau Tower's tethered "skyjump" and Bungee jump by AJ Hackett from the tower's outer rim, is the highest commercial skyjump in the world (233 meters), and the second highest commercial decelerator descent facility in the world, after Vegas' Stratosphere skyjump at 252 meters..
The Macau tower is one of the members of the World Federation of Great Towers. Besides being used for observation and entertainment, the tower is also used for telecommunications and broadcasting.
In popular culture
Jack Osbourne has bungee-jumped off the tower as well, as part of the third series of Jack Osbourne: Adrenaline Junkie.
Anthony Bourdain bungee-jumped from the top floor of the building in an episode of Anthony Bourdain: No Reservations.
It served as the venue of photoshoot of Episode 10, America's Next Top Model Cycle 18: British Invasion.
The tower was featured in the third episode of An Idiot Abroad 3, where Karl Pilkington and Warwick Davis perform the Skywalk which involves walking around the perimeter of one of the highest floors. Davis then proceeded to take a controlled descent to the ground.
It was used on the South Korean variety show Running Man for episode 133. The cast (not including Kim Jongkook) and their guests,Lee Dong-wook and Han Hye-jin, were given three missions – sky jump, mast climb, and sky walk – to be completed on the tower to acquire the three characters they needed to continue onto the next mission.
The tower was also used as a "roadblock" in an episode of US version The Amazing Race: All-Stars that originally aired on April 22, 2007, on CBS as well as a roadblock in the Amazing Race Canada 2 in 2014. The tower also appeared in one roadblock each on two episodes of The Amazing Race Asia 3.
Source : Wikipedia
https://www.youtube.com/watch?v=J9uV00tKHu8
Reviews
Opening hours : 10.00AM to 09.00PM (Monday-Friday) 09.00Am to 09.00PM (on weekends and public holidays)
Admission fee : MOP 135 for adult / MOP 70 for the seniors (65years old and above) and children (3-11years old)
Getting there : Take Bus 9A, 18 or 21 and get off at Macau Tower