Kun Iam Statue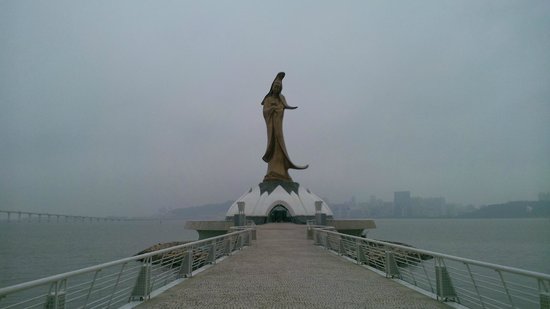 Kun Iam Statue, the symbol of Kun Iam Ecumenical Centre,  located on an artificial island connected to Av. Dr. Sun Yat-sen, NAPE, by a 60-meter long causeway, the total height being 32 meters. The statue  is made up of approximately 50 bronze castings, weighs 50 tons and measures 20 meters high.
This sculpture's face was specifically designed to show the Universality expressed in the concept of "Ecumenic" – without any distinctive ethnicity.
Inaugurated on 21st March 1999, the Centre was designed and made by the Portuguese architect and sculptor Cristina Rocha Leiria, with UNESCO support, in order to promote mutual respect and friendship among all peoples and civilizations. Kun Iam, or Guan Yin in Mandarin, is a deity embodying love, mercy and compassion, and a figure that represents this message of solidarity and rapprochement between people, worshiped even beyond the scope of the Buddhist religion.
The base of the statue, shaped like a Lotus Flower, includes a Contemplation Room where visitors can rest, listen to music, read, and get videos, CDs, books, teaching materials, sculptures and a variety of information on Oriental Thoughts, displayed in the Information Counter. The cupola is decorated with figures, symbols and texts related to Lao Tse, Confucius, Mencius and Buddha, painted on rice paper by the local artists Kwok Woon and Joana Ling.
The lower level offers a Multipurpose Room and a small Library and Media Centre with Internet connection. Having capacity for 50 people, this room is used to host concerts and conferences, film screenings and other multi-cultural activities such as Art exhibitions, all in order to bring harmony and inner peace to every visitor.
This Public Art complex offers a collection of educational materials, especially for young people, focusing on different modes of "Thought " from both the Occident and the Orient, particularly that of the Buddha, Lao Tse and Confucius. So, the activities that can be developed at the Centre are ultimately aimed at revealing the potential of these Philosophies, some of which gave rise to religions that have one significant thing in common: the power to bring about World Peace.
Source : macaumuseum.gov.mo
https://www.youtube.com/watch?v=xmoMMV_Vnuc
Reviews
Opening hours : 10.00AM to 06.00PM (Friday closed)
Entrance : Free
Getting there : Bus 10A, 17