Baba Harbhajan Singh Mandir
Major "Baba" Harbhajan Singh (August 3, 1941 – October 4, 1968) was an Indian army soldier who died in 1968 near the Nathu La in eastern Sikkim,India. He is revered by soldiers of the Indian army as the "Hero of Nathula" and the army men have also built a shrine Baba Harbhajan Singh Mandir in his honour. He has been accorded the status of saint by believers who refer to him as the Baba (saintly father). Many of the faithful people, chiefly Indian army personnel posted in and around the Nathula Pass and the Sino-Indian border between the state of Sikkim and Chinese occupied Tibet have come to believe his spirit protects every soldier in the inhospitable high altitude terrain of the Eastern Himalayas.
As with most saints, the Baba is said to also grant favours presumably to those who revere and worship him.
Harbhajan Singh's early death at the age of just 27 is the subject of legend and religious veneration, which has become popular folklore among Indian Army regulars (jawans), the people of his village and apparently also soldiers of the Chinese People's Liberation Army (PLA) across the border guarding the Indo-Chinese border between Sikkim and Tibet.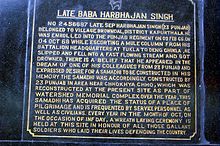 According to legend, Harbhajan Singh drowned in a glacier while trying to lead a column of mules carrying supplies to a remote outpost. His remains were found after three days and he was cremated with full military honours. He was posthumously awarded the Maha Vir Chakra medal for his bravery and martyrdom on 26 January 1969.
The legend further claims that it was Harbhajan Singh himself who helped the search party find his body. Still later, through a dream, he instructed one of his colleagues to build and maintain a shrine in his memory.
Some Indian soldiers believe that in the event of a war between India and China, Baba would warn the Indian soldiers of any impending attack at least the three days in advance. During flag meetings between the two nations at Nathu La, the Chinese set a chair aside to honour of Harbhajan Singh who has since come to be known as "Saint Baba". Every year on 11 September, a jeep departs with his personal belongings to the nearest railway station, New Jalpaiguri, from where it is then sent by train to the village of Kuka, in the Kapurthala district  of the Indian state of Punjab. While empty berths on any train of the Indian Railways are invariably allocated to any passenger without a confirmed reservation (Reservation against cancellation, RAC, or wait listed) or on a first come first served basis by the coach attendants, a special reservation for the Baba is actually made for him and his berth left empty for the entire journey to his home town every year with other soldiers accompanying "him" so as to reach him till his home. A small sum of money is also contributed by soldiers posted in Nathula to be sent to his mother each month.
Source : Wikipedia
https://www.youtube.com/watch?v=uYxHgYSd_KE
https://www.youtube.com/watch?v=eJWAxObtnrI
Reviews