Elephant Rehabilitation Centre at Kottur, Kappukad
Elephant Rehabilitation Centre near Kappukadu in India. 695574, Kottoor, Kerala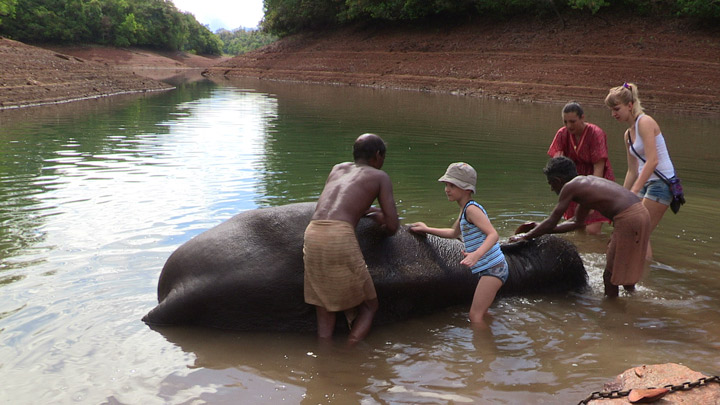 From time immemorial elephants have been an integral part of the history, tradition, myth and culture of India and Kerala in particular. One cannot imagine a festival in Kerala without the presence of an elephant.
Flanked by the water of the Neyyar reservoir and the moist deciduous forest and grass lands, the Elephant Rehabilitation Centre at Kottur, near Kappukad, located about 35 kms from Thiruvanathapuram, spreads over 56 hectares and is surrounded by trenches to keep wild animals at bay. This provides enough space for all the elephants accommodated here. One of the major highlights of the centre is the chain-free life these mammals enjoy. Freedom to roam, that too in well protected vicinities is something unique to this centre. For the sick and injured elephants the centre is almost like an orphanage or retirement home. 30 elephants can be accommodated within this comfortable zone at a time and they are looked after by a team of experts.
The ideal time to visit the centre is between 9:30 a.m. and 11:30 a.m., when the elephants are bathed and fed. Visitors can lend a hand to the mahouts in these activities. The elephants are fed with cooked rice and jaggery made in to the shape of balls. It is quite amazing to watch mahouts feeding the elephants. Visitors are allowed to go near and enjoy this wonderful spectacle. Elephant ride is another entertainment provided in the centre. For researchers and students this is an ideal place to observe and study the behavior of the giant mammals.
Source : keralatourism.org
https://www.youtube.com/watch?v=W7cB0vRylok
https://www.youtube.com/watch?v=eCoxlZx1mCA
https://www.youtube.com/watch?v=oN66d3KCm84
Reviews