Viceregal Lodge and Botanical Gardens
Boileauganj, Shimla, Himachal Pradesh 171005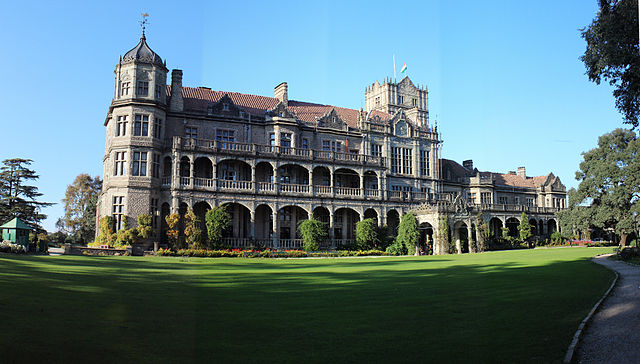 On the Observatory Hills is located Viceregal Lodge, which is also known as "Rashtrapati Niwas". This magnificent building was the residence of the British Viceroy Lord Dufferin. This lodge was completed in 1888 and it is said that every brick for the building was carried by mules. This is a six-story building and is surrounded by well-maintained gardens and lawns. The lodge has now been converted into Institute of Advanced Study and is further 2-km from State Museum.
Source : hpshimla.nic.in
The Rashtrapati Niwas, also known as Viceregal Lodge, is located on the Observatory Hills of Shimla, Himachal Pradesh, India. It was formerly the residence of the British Viceroy of India. It houses some of the most ancient articles and photographs going back to the times of the British rule in India.
The Viceregal Lodge was designed by British architect Henry Irwin and built in the Jacobethan style during the regime of Lord Dufferin. Its construction started in 1880 and was completed in 1888. Lord Dufferin occupied the lodge on July 23, 1888.
The summer capital of British India was of little use to the President of India who visited it only for a few days in the year, if at all. Professor S.Radhakrishnan thought of putting it to academic use. The Rashtrapati Nivas Estate was transferred to the Ministry of Education to be handed over to the Indian Institute of Advanced Study. The C.P.W.D., the Himachal Pradesh High Court, and the Himachal Pradesh University were allowed in due course to use some of its buildings but the bulk of the Estate, including its well kept lawns and rich greenhouse, has remained in use for the Indian Institute of Advanced Study.
Source : wikipedia
https://www.youtube.com/watch?v=9zwWOu8uPUg
https://www.youtube.com/watch?v=-1lp50-RFUo
Reviews
Visiting hours : 10.00AM to 01.00PM and 02.00PM to 05.00PM ( Monday closed )
Entry fee : Rs.30/- for Indians and Rs.65/- for foreign tourists