Toy Train (Kalka – Shimla Railway)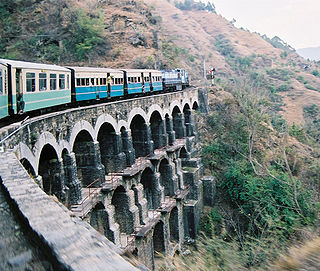 This is a World Heritage Site. Mountain Railways India, name as inscribed on the World heritage list
The Kalka–Shimla Railway is a 2 ft 6 in (762 mm) narrow gauge railway in North-West India travelling along a mostly mountainous route from Kalka to Shimla to . It is known for dramatic views of the hills and surrounding villages.
The Kalka–Shimla Railway was built to connect Shimla, the summer capital of India during the British Raj, with the Indian rail system. Now, Shimla is the capital city of Himachal Pradesh and Kalka is a town in the Panchkula district of Haryana. The route is famous for its scenery and improbable construction.
The Toy Train route winds from the Himalayan Sivalik foothills at Kalka to several important points such as Dharampur, Solan, Kandaghat, Taradevi, Barog, Salogra, Totu (Jutogh), Summerhill and Shimla at an altitude of 2,076 meters (6,811 ft)
Originally 107 tunnels were built on Kalka Shimla Railway Track and 102 remain in use. The longest tunnel is at Barog. Engineer Colonel Barog dug the tunnel from both ends and could not align them and was symbolically fined one rupee. He couldn't live with the shame and committed suicide inside the incomplete tunnel. Chief Engineer H.S. Herlington later completed the tunnel with help from Bhalku, a local sadhu
The line has 864 bridges. The railway has a ruling gradient of 1 in 33 or 3%. It has 919 curves, the  sharpest being 48 degrees (a radius of 37.47 m or 122.93 feet). Climbing from 656 meters (2,152 ft), the line terminates at an elevation of 2,076 meters (6,811 ft) at Shimla, a difference in height of 1,420 meters (4,660 ft). The line originally used 42 lb/yd (21 kg/m) rail but this was later re-laid to 60 lb/yd (30 kg/m) rail.
Source : Wikipedia
https://www.youtube.com/watch?v=8C7hrxve31Y
Reviews