Secretariat building
Rafi Ahmed Kidwai Marg, Rajpath Area, Central Secretariat, New Delhi, Delhi 110001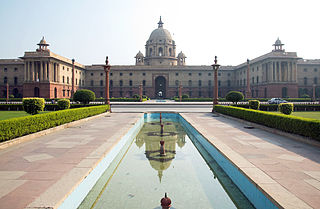 The Secretariat Building or Central Secretariat is where the Cabinet Secretariat is housed, which administers the Government of India. Built in the 1910s, it is home to some of the most important ministries of the Cabinet of India. Situated on Raisina Hill, the Secretariat buildings are two blocks of symmetrical buildings (North Block and South Block) on opposite sides of the great axis of Rajpath, and flanking the Rashtrapathi Bhavan (President's House).
The Secretariat Building was designed by the prominent British architect Herbert Baker in Indo-Saracenic Revival architecture. Both the identical building have four levels, each with about 1,000 rooms, in the inner courtyards to make space for future expansions. In continuation with the Viceroy's House, these buildings also used cream and red Dholpur sandstone from Rajasthan, with the red sandstone forming the base. Together the buildings were designed to form two squares. They have broad corridors between different wings and wide stairways to the four floors and each building is topped by a giant dome, while each wings end with colonnaded balcony.
Much of the building is in classical architectural style, yet it incorporated from Mughal and Rajasthani architecture style and motifs in its architecture. These are visible in the use of Jali, perforated screens, to protect from scorching sun and monsoon rains of India. Another feature of the building is a dome-like structure known as the Chatri, a design unique to India, used in ancient times to give relief to travelers by providing shade from the hot Indian sun.
The style of architecture used in Secretariat Building is unique to Raisina Hill. In front of the main gates on buildings are the four "dominion columns", given by Canada, Australia, New Zealand and South Africa. At the time of their unveiling in 1930, India was also supposed to become a British dominion soon. However, India became independent within the next 17 years and the Secretariat became the seat of power of a sovereign India. In the years to follow the building ran out of accommodation
Source ; Wikipedia
https://www.youtube.com/watch?v=wE4CBS2sbRk