Red Fort ( Lal Qila )
Netaji Subhash Road, Chandni Chawk, New Delhi – 110006
Phone : 011 2327 7705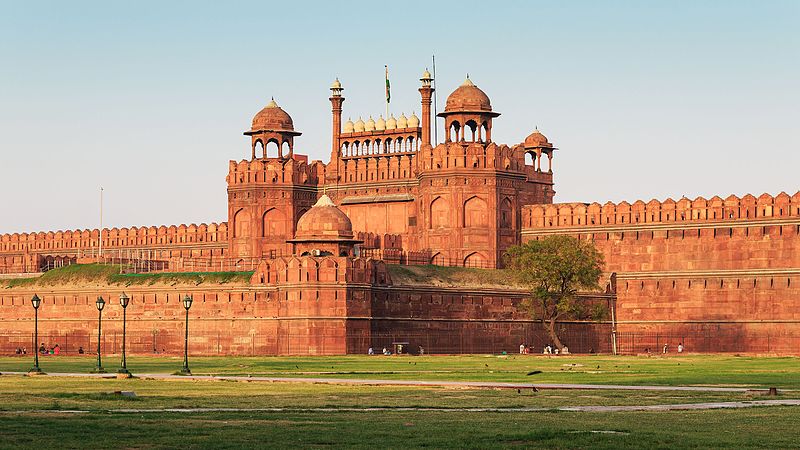 This is a world heritage site.
The Red Fort was the residence of the Mughal emperor of India for nearly 200 years, until 1857. It is located in the centre of Delhi and houses a number of museums. In addition to accommodating the emperors and their households, it was the ceremonial and political centre of Mughal government and the setting for events critically impacting the region.
Constructed in 1648 by the fifth Mughal Emperor Shah Jahan as the palace of his fortified capital Shahjahanabad, the Red Fort is named for its massive enclosing walls of red sandstone and is adjacent to the older Salimgarh Fort, built by Islam Shah Suri in 1546. The imperial apartments consist of a row of pavilions, connected by a water channel known as the Stream of Paradise (Nahr-i-Behisht). The fort complex is considered to represent the zenith of Mughal creativity under Shah Jahan and although the palace was planned according to Islamic prototypes, each pavilion contains architectural elements typical of Mughal buildings that reflect a fusion of Timurid and Persian traditions. The Red Fort's innovative architectural style, including its garden design, influenced later buildings and gardens in Delhi, Rajasthan,Punjab, Kashmir, Braj, Rohilkhand and elsewhere.
Source : Wikipedia
The Fort also houses the Diwan-i-Am or the Hall of Public Audiences where the Emperor would sit and hear complaints of the common folks. The Diwan-i-Khas is the hall of private audiences where the Emperor held private meetings. This hall is made of marble and its centre-piece used to be the Peacock Throne, which was carried away to Iran by Nadir Shah in 1739.

The other attractions within this monument are the Royal Baths or hammams, the Shahi Burj, which used to be Shah Jahan's private working area and the Moti Masjid or the Pearl Mosque, built by Aurangzeb for his personal use. The Rang Mahal or the "Palace of Colours" housed the Emperor's wives and mistresses. This palace was crowned with gilded turrets, delicately painted and decorated with an intricate mosaic of mirrors, and a ceiling overlaid with gold and silver that was reflected in a central pool in the marble floor.
On Independence Day  (15 August), the Prime Prime Minister of India hoists the 'tricolor' national flag at the main gate of the fort and delivers a nationally-broadcast speech from its ramparts.
The Red Fort, the largest monument in Delhi, is one of its most popular tourist destinations and attracts thousands of visitors every year.
A sound and light show describing Mughal history is a tourist attraction in the evenings.
https://www.youtube.com/watch?v=RS5CZ0vlIVg
http://www.youtube.com/watch?v=wTchtlRe5qU
Reviews
Visiting Hours : 9.00 AM to 4.30 PM Monday Closed
Entry Fee : Indian Nationals Rs. 10/- and Foreign Nationals Rs. 150/-
Sound & Light Show held every evening at Red Fort ( Lal Qila )
https://www.youtube.com/watch?v=-XBxlLvNECg
Tickets : Rs. 60/- for adults and Rs. 20/- for children (up to 3 to 12 years of age) Weekdays and
Rs. 80/- for adults and Rs. 30/- for children (up to 3 to 12 years of age)-Saturday, Sunday & Government Holidays.
Tickets are available one hour before the show starts at the Purana Qila ticket booth.
Monday Closed
For further information please contact Tel. Nos.23274580, 23281802 .
Month                                                       Hindi                                                   English
February to April                     7.00 PM to 8.00 PM                           8.30 PM to 9.30 PM
May to August                          7.30 PM to 8.30 PM                            9.00 PM to 10.00 PM
September to October            7.00 PM to 8.00 PM                            8.30 PM to 9.30 PM
November to January            6.00 PM to 7.00 PM                             7.30 Pm to 8.30 PM
For online Booking : https://goo.gl/d09Mnc
Sound & Light Show held at Old Fort ( Purana Qila ) recommended.