Raj Ghat    
Raj Ghat is situated to the south of Red Fort and is very peaceful.
New Delhi, DL 110006. Phone: 011 2336 3607
Raj Ghat is a memorial to Mahatma Gandhi. Originally it was the name of a historic ghat of Old Delhi ( Shahjahanabad ) on the banks of Yamuna river. Close to it, and east of Daryaganj was "Raj Ghat Gate" of the walled city, opening at Raj Ghat on Yamuna River. Later the memorial area was also called Raj ghat. It is a black marble platform that marks the spot of Mahatma Gandhi's cremation, Antyesti (Antim Sanskar) on 31 January 1948, a day after his assassination. It is left open to the sky while an eternal flame burns perpetually at one end. It is located on the banks of the river Yamuna in Delhi in India on Ring Road officially known as Mahatma Gandhi Road. A stone footpath flanked by lawns leads to the walled enclosure that houses the memorial. All guests must remove their footwear before entering the Raj Ghat walls.
Other memorials
It loosely translates to King's Bank (where King alludes to the importance of the place and Bank as in -on the bank of river Yamuna). Several other samādhis or cremation spots of other famous leaders can be found in the vicinity of Raj Ghat on the banks of the Yamuna. The landscaping and planting of these memorials was performed by Alick Percy-Lancaster, the last Englishman to hold the post of Superintendent of Horticultural Operations, Government of India.
Jawaharlal Nehru's samadhi is to the north of the Raj Ghat and is known as the Shantivan or Shanti Vana meaning the "forest of peace". Adjacent to Nehru's memorial is Ekta sthal, the site where K. R. Narayanan, tenth President of India, was cremated with full state honours in 2005.
The area has a park adorned with trees planted by visiting dignitaries and heads of state.
Source : Wikipedia
http://www.youtube.com/watch?v=MmlQXkF2dOI
http://www.youtube.com/watch?v=B3YYfL2kdVc
Reviews
Visiting Hours : 5.00 AM – 7.30 PM (April – September) / 5.30 AM – 7.00 PM (October – March)
Open on all days
Entry Fee : No Entry fee
Shanti Vana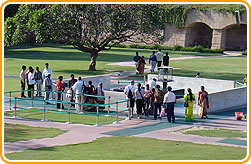 It is adjacent to Raj Ghat
Shanti Vana, literally means 'the forest of peace', is situated close to Raj Ghat, in Delhi. It is the cremation site of India's first Prime Minister Jawaharlal Nehru.
Shanti Vana is now an attractive park adorned by numerous trees planted by visiting dignitaries and heads of state. Shanti Vana is considered as a historic monument.
Gandhi Memorial Museum and Gandhi Balidansthal are located nearby
http://www.youtube.com/watch?v=yIT29GrqYvQ
Visiting Hours : 5.00 AM – 7.30 PM (April – September) / 5.30 AM – 7.00 PM (October -March)
Open on all days
Entry Fee : No Entry fee