National Museum
Minto Bridge Colony, Barakhamba, New Delhi, DL
Phone 098 82 737392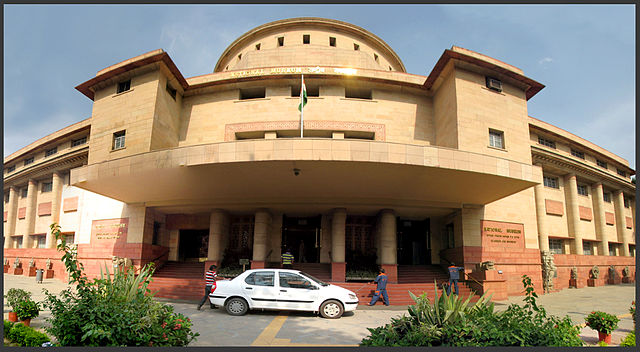 The National Museum Delhi is one of the largest museums in India. Established in 1949, it holds variety of articles ranging from pre-historic era to modern works of art. It functions under the Ministry of culture, Government of India. The museum is situated on the corner of Janpath and Maulana Azad Road. The blue–print of theNational Museum Delhi had been prepared by the Gwyer Committee set up by the Government of India in 1946. The National Museum Delhi has around 200,000 works of art, both of Indian and foreign origin, covering over 5,000 years.
It also houses the National Museum Institute of History of Arts,Conservation and Museology on the first floor which was established in 1983 and now is a Deemed University since 1989, and runs Masters and Doctoral level courses in History of Art, Conservation and Museology.
Departments and collections
Presently, there are several departments in the National Museum.
Pre-History Archaeology
Archaeology
Manuscripts
Numismatics & Epigraphy
Paintings
Arms & Armour
Decorative Arts
Central Asian Antiquities
Pre-Columbian Art
Jewellery
Anthropology
Education
Public Relations
Publication
Conservation
The collections of the National Museum covers nearly all the departments. It represents almost all disciplines of art: Archaeology (Sculptures in Stone, Bronze & Terracota), Arms, Armour, Decorative Arts, Jewellery, Manuscripts, Miniatures and Tanjore Paintings, Textiles, Numismatics, Epigraphy, Central Asian Antiquities, Anthropology, Pre-Columbian American and Western Art Collections.
The Museum has in its possession over 200,000 works of art, of both Indian and foreign origin, covering more than 5,000 years of the rich cultural heritage of different parts of the world. Its rich holdings of various creative traditions and disciplines which represents a unity amidst diversity, an unmatched blend of the past with the present and strong perspective for the future, brings history to life.
Source Wikipedia
https://www.youtube.com/watch?v=8K9wXg7Tj2M
Reviews
Visiting hours : 10.00AM to 5.00PM ( Monday closed )
Entry fee : Indian citizens – Rs.10/- each, Others – Rs. 300/- each ( Inclusive of audio tour charges )
Audio tour available in English, French, German, Japanese and Hindi languages.
Audio tour charges
For Indian citizens
English
Rs. 150/- each
Rs. 400/- for 2 adults and 2 children below 12 years family rate.
Hindi
Rs. 100/- each
Rs. 200/- for 2 adults and 2 children below 12 years family rate.
Camera (still )
Indian citizens : Rs. 20/- per camera, Others : Rs.300/- per camera