Lotus Temple ( Bahai's temple)
Lotus Temple Rd, Shambhu Dayal Bagh, Bahapur, New Delhi, DL 110019
Phone :  011 2338 9326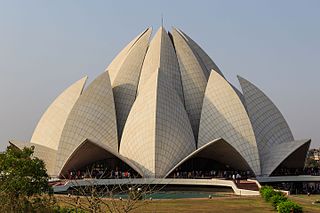 Lotus Temple is situated 12 km to the southeast of Connaught Place.
The Lotus Temple, located in New Delhi, India, is a Bahá'í House of Worship completed in 1986. Notable for its flowerlike shape, it serves as the Mother Temple of the Indian subcontinent and has become a prominent attraction in the city. The Lotus Temple has won numerous architectural awards and been featured in hundreds of newspaper and magazine articles. Like all Bahá'í Houses of Worship, the Lotus Temple is open to all, regardless of religion or any other qualification. The building is composed of 27 free-standing marble-clad "petals" arranged in clusters of three to form nine sides, with nine doors opening onto a central hall with height of slightly over 40 metres and a capacity of 2,500 people. A 2001 CNN report referred to it as the most visited building in the world.
Worship
Like all other Bahá'í Houses  of Worship, the Lotus Temple is open to all, regardless of religion, or any other distinction, as emphasized in Baha`'I texts. The Bahá'í laws emphasize that the spirit of the House of Worship be that it is a gathering place where people of all religions may worship God without denominational restrictions. The Bahá'í laws also stipulate that not only the holy scriptures of the Baha`'i Faith but also those of other religions can be read and/or chanted inside the House of Worship regardless of language; while readings and prayers can be set to music by choirs, no musical instruments can be played inside. Furthermore, no sermons can be delivered, and there can be no ritualistic ceremonies practiced.
The Temple has received wide range of attention in professional architectural, fine art, religious, governmental, and other venues.
Since its inauguration to public worship in December 1986, the Bahá'í House of Worship in Delhi has, as of late 2001, attracted more than 70 million visitors, making it one of the most visited buildings in the world. Its numbers of visitors during those years surpassed those of the Eiffel Tower and the Taj Mahal.
Source : Wikipedia
http://www.youtube.com/watch?v=t_diMEasVOA
Reviews
Visiting Hours : Summer 09.00 am to 07.00 pm, Winter 09.00am to 05.30 pm ( Monday Closed )
Time required : 1 hour
Entry fee : Free
For the Exotic View, Visit During Evening Hours as Lotus Temple Glitters Like Diamond. Evening is the Best Time to Visit.