Kingdom of Dreams
Located 26 kms. from Delhi
Auditorium Complex, Near IFCCO Metro Station, Sector 29, Gurgaon, Haryana 122001
Phone : 0124 452 8000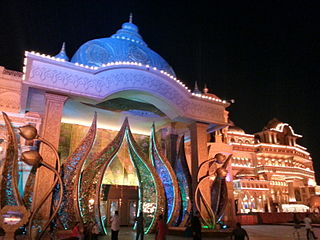 Kingdom of Dreams is India's first live entertainment, theatre and leisure destination.  It was inaugurated on 29 January 2010, and opened to public on 18 September 2010. The opening showcased a special preview of the Bollywood musical, Zangoora, starring Hussain Kuwajerwala, Gauhar Khan and Kashmira Irani. Spread over 6 acres (24,000 m2) and built at a cost of over Rs. 2 billion, Kingdom of Dreams is run by the Great Indian Nautanki Company (GINC), a joint venture between Apra Group and Wizcraft.
The destination consists of two theatres, Nautanki Mahal and the Showshaa Theatre, and a cultural and cuisine area known as Culture Gully.
Bollywood actor Shah Rukh Khan was named the global ambassador of Kingdom of Dreams on 19 September 2010. The 2010 Commonwealth Games' official theme song, Jiyo Utho Bado Jeeto by composer A R Rahman was launched in the complex on 28 August 2010, with a performance by Rahman, accompanied by dance performances by Hussain Kuwajerwala, Gauhar Khan and Kashmira Irani, on the theme of Zangoora – The Gypsy Prince.
Nautanki Mahal
Nautanki Mahal is an 835-seat auditorium within the complex and is designed like a grand palace.[1] Indian and international theatrical productions are staged there.
The auditorium holds a hydraulic stage, automated fly bars, and a matrix sound system that makes the theatre experience real.
Culture Gully
Culture Gully is the arts, crafts and food boulevard at the Kingdom of Dreams. It is fully ac boulevard spread across 100,000 square feet (9,300 m2), with theme restaurants and live kitchens from 14 states of India, represented with their representative architecture and decor.
Each state pavilion's architecture has something unique.
Other than regional delicacies, the state pavilions hosts street performances, artisans and handicraft stores.This "Indoor street of India" has a mystic center and massage center that provides "Dry" massage. Opened in July 2010, the entrance to the indoor boulevard is through a 20 ft (6.1 m) gateway, made with Golden lotus petals sparkling with tiny mirrors.
Culture Gully houses two lounge bars – 'The Mehkhana Bar and the Kerela Bar.
Showshaa Theatre
Showshaa Theatre is a 350-seater covered amphitheatre, complete with a soaring tent. Multiple theatrical performances take place here including productions based on Indian mythology.
IIFA Buzz Lounge
The IIFA Buzz Lounge, a Bollywood-themed resto-bar on the first floor of Culture Gully. It also showcases Bollywood memorabilia, the IIFA Awards trophy, movie costumes and posters. It was launched on 1 September 2010 by actor, Salman Khan.
Source : Wikipedia
https://www.youtube.com/watch?v=qTEjn-C6aZc
Reviews
Visiting hours and Entry fee: