Iskcon Temple
Hare Krishna Hill, Raja Dhirsain Marg, Sant Nagar, East of Kailash, New Delhi, Delhi 110065
Phone : 011 2623 5133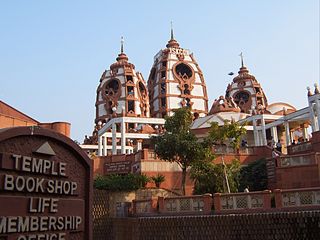 Sri Sri Radha Parthasarathi Mandir , generally known as the ISKCON Delhi Temple, is a well known Vaishnav temple of Lord Krishna and Radharani in the form of Radha Parthasarathi. Opened in 1998, it is located at Hare Krishna Hills, in the East of Kailash area of New Delhi, India.
ISKCON Delhi Temple, designed and built by Achyut Kanvinde who in 1993 agreed to accept a pro-bono commission to build this temple complex for the followers of Srila Prabhupada, is one of the largest temple complexes in India. It comprises numerous rooms for priests and for service renders. It has many halls that are used for its administration purposes. It is divided into four broad sections.
Source : wikipedia
http://www.youtube.com/watch?v=aXNuaC9HNMw
Reviews
Timings : 4.30 AM to 12.00 PM and 4.00 PM to 9.00 PM Open all days. The Prayer Hall Remains Closed from 12 pm to 4 pm.
Entry fee : Free
Time required : 2 HOURS
Must Visit : The Central Prayer Hall that houses Idols of Radha-Krishna with other Deities.
Must see : Interiors of the temple decorated by aesthetic Russian artists representing different phase of lives of Deities.