Humayun's Tomb
Mathura Road, Nizamuddin, New Delhi, Delhi 110001
Phone :011 2436 5275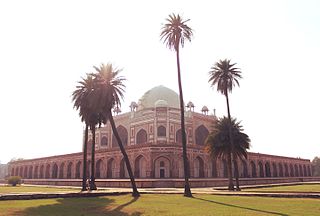 This is a World heritage Site.
Humayun's tomb is the tomb of the Mughal Emperor Humayun in Delhi, India. It was the first garden-tomb on the Indian subcontinent, and is located in Nazamuddin East, Delhi, India, close to the Dina-panah citadel also known as Purana Quila (Old Fort), that Humayun founded in 1533. It was also the first structure to use red sandstone at such a scale.
Humayun's Tomb represented a leap in Mughal architecture, and together with its accomplished Charbagh garden , typical of Persian gardens, but never seen before in India, it set a precedent for subsequent Mughal architecture.
The site was chosen on the banks of Yamuna river, due to its proximity to Nazamuddin Dargah, the mausoleum of the celebrated Sufi saint of Delhi, Nizamuddin Auliya, who was much revered by the rulers of Delhi, and whose residence, Chilla Nizamuddin Auliya lies just north-east of the tomb. In later Mughal history, the last Mughal Emperor, Bahadur Shah Zafar took refuge here, during the Indian Rebellion of 1857, along with three princes, and was captured by Captain Hodson before being exiled to Rangoon. At the time of the Slave Dynasty this land was under the 'KiloKheri Fort' which was capital of Sultan Kequbad, son of Nasiruddin (1268–1287).
The Tombs of Battashewala Complex lie in the buffer zone of the World Heritage Site of the Humayun Tomb Complex; the two complexes are separated by a small road but enclosed within their own separate compound walls.
Source : Wikipedia
http://www.youtube.com/watch?v=KAsIyGDnDgc
Reviews
Timings: Open on all days from sunrise to sunset.
Preferred Timings: Late afternoon is the best time to see Humayun's Tomb, because the natural light aids photography
Entry fee : Rs.10/- for Indians and Rs.250/- for foreign Nationals.